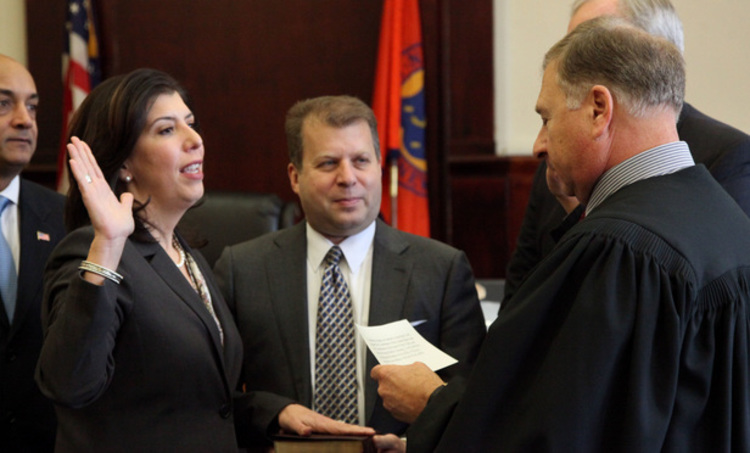 Madeline Singas is sworn in as Nassau County acting District Attorney, with her husband Theo Apostolouby holding the bible, by Nassau County Administrative Judge Thomas Adams on Tuesday, January 6, 2015 in Garden City. By Howard Schnapp CREDIT: Newsday
Let's be forward, I'm not one for politics. I'll crack a Bush joke here and there, but hey, hockey is my church and my state; but the race for Nassau County's next District Attorney is shaping up to be a real job of an election, all thanks to spiteful Isles fans.
With the now infamous face of hate for any and all Isles fans alike, Kate Murray, seemingly walking directly into a powder keg of an election, current DA Madeline Singas is set to ride the coattails of the Blue and Orange army right back into another term. That's what we in the business like to call a "Dynasty."
Because social media is awesome and Kate Murray is an idiot, let's check up on her mentions, shall we?
So go ahead Caps fans… Keep talking trash Hawks fans…. Yeah, your teams are still playing hockey, but we're fixing elections over here in New York.
Frank Underwood > Pierre McGuire, that we can all agree on.
Comments
comments