The 5 Hole: Storm Hits Early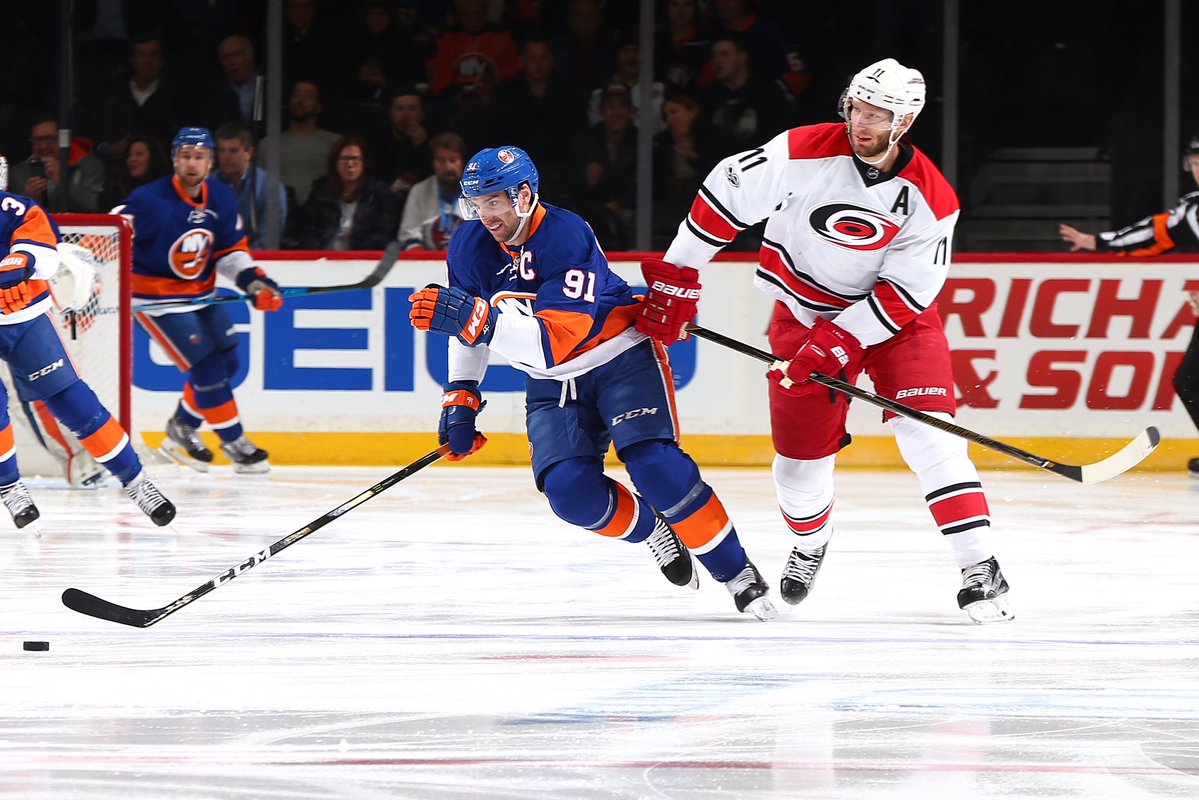 The Barclays Center let the Isles back in to play a home game after a 9 game road trip. The Islanders (32-24-11) host the Hurricanes (27-27-11) Monday night and for some unimaginable reason, this was a nationally broadcasted game on NBCSN. Berube to start giving Greiss the night off. Isles dominate the game early and it leads to their first goal. Strome throws one on net off the rush and may of tipped off a d-man's skate and in. Isles stopped playing for a few shifts and Carolina gets two quick ones putting them up 2-1. Towards the end of the period, Clutterbuck wins a corner battle, throws it in front and Gionta gets his nose dirty and buries one tying the game at 2. Ho-Sang had a solid period and continues to prove he will be here for good in his first home game. Second period starts with deHaan shooting one from the side wall and passed Ward giving the Isles a one goal lead. Carolina again scores two to tie it which makes Weight pull Berube for Greiss yet on Greiss' first shot Faulk gets his  second of the night making the score 5-3 Carolina. Not ideal. Greiss doesn't save the second shot he sees either and it's 6-3. A Beauvillier slap pass to Ho-Sang and it makes it a 6-4 game. Ho-Sang from Beau just sounds beautiful. Skinner scores a dirtyyyy goal on a penalty shot which basically seals the deal making it 7-4. Slavin records his first career hattrick making it 8-4.
See you tomorrow night in…….Raleigh!
Cool chant at Barclays: "Ho-Sang, HoSangHoSangHoSang, Hooo Sang, Hooo Sang." (Like, "Ole, Ole" or Mets' "Jose, Jose.") #Isles

— Brett Cyrgalis (@BrettCyrgalis) March 13, 2017
Start trying JF

— Isles Fanatics (@IslesFanatics) March 14, 2017
Josh Ho-Sang is pretty smooth pic.twitter.com/wbMlKcGZva

— Brady Trettenero (@BradyTrett) March 13, 2017
If one player would be nicknamed "Biggie Smalls" it would be Stephen Gionta #Isles

— IslesBlog (@IslesBlog) March 14, 2017
On a scale of 9-10 how much does Doug Weight hate JF Berube?

— RegularSZN Ethan (@EthanGSN) March 14, 2017
Berube vs. Ward? I'll take the over.

— Isles Road Warrior & New Canes fan (@IslesRW) March 14, 2017
Halak could realistically be here by the start of the 3rd period. #Isles

— Chris Howard (@Chrishowrad) March 14, 2017
FYI Pedro isn't in the building tonight. Not saying but just saying

— connor (@ConIsles) March 14, 2017
Ho-sang from Beauvillier???? pic.twitter.com/igkhr4q3XV

— connor (@ConIsles) March 14, 2017
Comments
comments