The 5 Hole: Monster Victory at MSG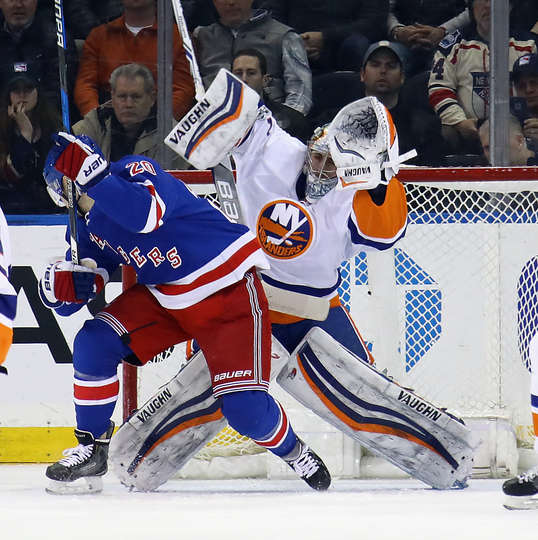 Around this time of the year, you'll hear the phrase "biggest game of the season", well tonight for the New York Islanders, that phrase was multiplied by a thousand. Having not played since Saturday, the Isles got some help from other teams as they headed in to their pivotal showdown with the New York Rangers. 1-3-1 in their last five, tonight in every absolute way was a must win for the Isles.
The Isles have won the last two against the Blueshirts, and six of the last seven contests between the two teams. Joshua Ho-Sang would get his first taste of this 45-year old rivalry, and he couldn't have picked a bigger one.
Always a ratcheted up affair, the Isles found a way in the third and won 3-2. Thomas Greiss was sensational and Andrew Ladd hit the 20-goal mark. New York's season lives to see another day as they get ready for a back to back with Pittsburgh and Boston. The best from social media can be seen here:
Greisser #isles pic.twitter.com/X4Rc5B8BSa

— YeSUV (@IslesWhiteSUV) March 23, 2017
Here's that Ladd hit #Isles pic.twitter.com/PKbwqjedI4

— Eyes on Isles (@eyesonislesFS) March 23, 2017
Dont think that counts as Grabner`s breakaway for the game. He still has one in reserve. #isles #NYR

— Andy Graziano (@AndyGraz_SNY) March 23, 2017
Took nearly 7 minutes for the first Potvin Sucks chant. #NYR fans are slipping. #Isles

— Brad Kurtzberg (@sealshockey) March 23, 2017
Scott Mayfield just saved two goals #Isles

— Rob Taub (@RTaub_) March 23, 2017
Worst game I've seen Bailey play all year. #isles

— Brian Schiazza (@brianschiazza) March 23, 2017
ANDERS TIES IT #Isles pic.twitter.com/VWul4oIHxT

— Eyes on Isles (@eyesonislesFS) March 23, 2017
Anders Lee #isles pic.twitter.com/rqcMemcE0h

— Jon Cav (@JonCav) March 23, 2017
Attaboy Mayfield. #isles

— Adam Malmut (@AMalmut) March 23, 2017
That's a mismatch Hickey will never win. #Isles

— Jeff Capellini (@JCapWFAN) March 23, 2017
Awful night for the captain. #isles

— Brian Schiazza (@brianschiazza) March 23, 2017
Greiss saving the #Isles bacon again pic.twitter.com/yW2sNorAkz

— Rob Taub (@RTaub_) March 23, 2017
LOVE a fired up Dougie. #Isles

— New York Bootleg (@NewYorkBootleg) March 23, 2017
I wonder if someone other than Beauvillier and Ho-Sang will show up the rest of this game, brutal #Isles

— Rob Taub (@RTaub_) March 23, 2017
Cut and paste time: Biggest period of the season coming for the #Isles. So far tonight, total failure despite only 1-goal deficit.

— Jeff Capellini (@JCapWFAN) March 23, 2017
Strap Brock Nelson to a rocket and fire him into another galaxy. #Isles

— Chris Ho-Ward (@Chrishowrad) March 23, 2017
I don't know what to say anymore… #Isles pic.twitter.com/VQ0U2p08qG

— Eyes on Isles (@eyesonislesFS) March 23, 2017
Kulemin with some puck luck, tie game pic.twitter.com/rLps3vnj8k

— Rob Taub (@RTaub_) March 23, 2017
Ho-Sang skating circles around the offensive zone > running laps around the Coliseum #Isles

— Tyler Gildin (@TylerGildin) March 23, 2017
Ho-Sang's a pretty smart young man. Not sure he calculated the double-deflection angle there.

— Arthur Staple (@StapeNewsday) March 23, 2017
When Brock takes a penalty then fans on a wide open look. #Isles pic.twitter.com/QPFWK8Svmj

— Matt O'Leary (@MattOLearyNY) March 23, 2017
Here @NYRangers #isles pic.twitter.com/2TDTSgtqEU

— YeSUV (@IslesWhiteSUV) March 23, 2017
Ladd you sexy beast you! #isles

— Michael Schuerlein (@islesblogger) March 23, 2017
Ladd goal not possible without Nelson's swing and miss ?#Isles

— IslesBlog (@IslesBlog) March 23, 2017
First time since 2/23/16 in MINN that #Isles have scored 2 PP goals in a road GAME. #NHL

First time they've done so @MSGNYC since 12-22-11

— Eric Hornick (@ehornick) March 23, 2017
The #Isles had 786,895,342 chances to clear. Where have we heard this before?

— Jeff Capellini (@JCapWFAN) March 23, 2017
#isles fans right now.. pic.twitter.com/hOG9zLd6Qp

— IslesThoughts (@IslesThoughts) March 23, 2017
VICTORY!!!#Isles win it 3-2! ☝️☝️☝️ #LGI #YesYesYes pic.twitter.com/1pwHWd68CK

— New York Islanders (@NYIslanders) March 23, 2017
Comments
comments