The 5 Hole: Halakdown in Pitt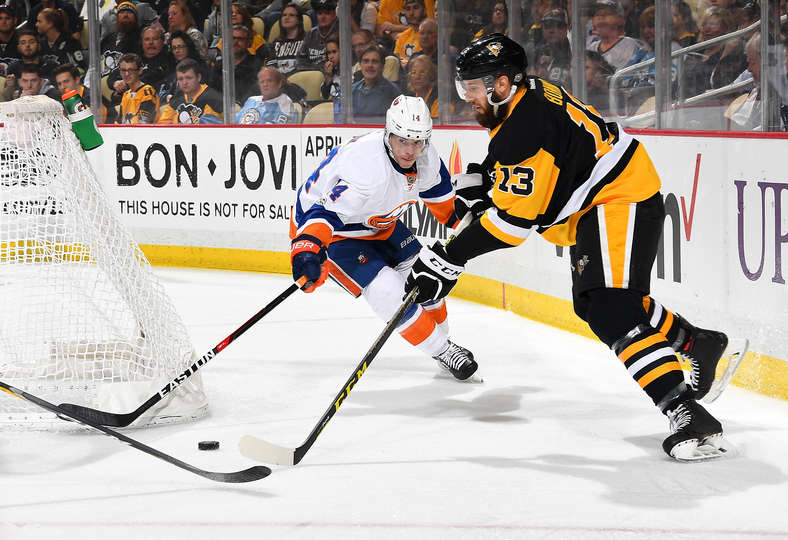 It could be possible that starting tonight, the New York Islanders season could come down to this weekend. The stakes were higher than ever as they played the first of a back-to-back against the Pittsburgh Penguins. These two teams always leave it all out on the ice, and in New York's case, the desperation level needed to be amped up to an entirely new level.
Jaroslav Halak finally made his first start after three months in Bridgeport with the Sound Tigers as Thomas Greiss finally got a well-deserved night off. Along with Halak, Josh Ho-Sang made his first trip to the Steel City where a hostile crowd awaited him.
In another must win game, the Isles prevailed in the shootout 3-2 for a massive two points. Jaro Halak was outstanding and Anthony Beauvillier and John Tavares scored twice in the skills session to secure the victory. The Isles are right back at it tomorrow night against Boston. Below is the happy recap:
Hickey needs to get a clue. He has been getting worked lately. #Isles

— Jeff Capellini (@JCapWFAN) March 24, 2017
Halak big stop on Rust pic.twitter.com/QpWIuWnOee

— Rob Taub (@RTaub_) March 24, 2017
Halak's been tested early. Probably a good thing to get him in rhythm #Isles

— Eyes on Isles (@eyesonislesFS) March 24, 2017
At least he still has his hand. #isles https://t.co/rsyLZjCRDA

— Sean Cuthbert (@seanyhockey) March 24, 2017
Andrew Ladd was just called one of the #isles "best players." Boy have things changed.

— Isles Road Warrior (@IslesRW) March 24, 2017
Burke kids watching daddy & #isles. ???? (Queen Elsa laughing because she thought brother's swaddle made him look like "a baby Olaf." ⛄️) pic.twitter.com/8R47RyJo9c

— Mary Burke (@mrsburkie) March 24, 2017
Ping! Ping! Don't think I've seen that since Mighty Ducks 2 #Isles

— IslesBlog (@IslesBlog) March 24, 2017
Game still 0-0. Every #Isles player on the ice chirps at refs on the way off.

— Arthur Staple (@StapeNewsday) March 24, 2017
Absolutely disgraceful ruling. #NHL has real officiating issues. That basically gives all dmen license to push forwards into goalies. #Isles

— Jeff Capellini (@JCapWFAN) March 24, 2017
So Quine gets backed into Fleury, stays outside crease, yet called for interference on Fleury. Ok then…..#isles

— Andy Graziano (@AndyGraz_SNY) March 24, 2017
I love Dougie Fresh

He's great #WeightLift #isles pic.twitter.com/p7SbHQGVck

— YeSUV (@IslesWhiteSUV) March 24, 2017
Come on @NHL PR. Explain the logic behind the #Isles goal being waived off. You're making a mockery of the game. pic.twitter.com/eUTkY39cx5

— Adam Baum (@Gordon_Baumbay) March 24, 2017
Brock Nelson has been suspended five games by the NHL for putting a puck in Pens net, effective immediately. #isles

— Andy Graziano (@AndyGraz_SNY) March 25, 2017
You knew that was coming. #isles

— Alex Soti (@Ajsoti) March 25, 2017
The Legend to Brock! #Real66 #isles NYIslanders pic.twitter.com/Pj16qpqyp9

— YeSUV (@IslesWhiteSUV) March 25, 2017
Pens fans booing Ho-Sang's assist. It's glorious #isles

— Garthur Staple (@GarthNewsday) March 25, 2017
That's pretty much all 29 can do well but I'll take it. #Isles

— Brian Schiazza (@brianschiazza) March 25, 2017
Anders Lee with his 28th…maybe #isles pic.twitter.com/9AOLspgpo6

— Eyes on Isles (@eyesonislesFS) March 25, 2017
Hahhahah good goal! Hahha #Isles up 2-1 hahah

— Shannon Hogan (@Shannon_Hogan) March 25, 2017
#isles pic.twitter.com/5ajAnWd8F0

— Ivana Spade (@ivanaspade) March 25, 2017
It had to be him… #isles pic.twitter.com/OHoxPeRz69

— ?? (@Buttercluck15) March 25, 2017
REVIEW THAT, Sullivan! #Isles

— Derek Crowell (@DECrowell) March 25, 2017
John Tavares. That is all. #isles pic.twitter.com/bV8rzGZECh

— Kevin Cosgrove (@kcos194) March 25, 2017
Tavares gonna Tavares ?
JT serves one up for Zeeker ? pic.twitter.com/x0pm5DZqiR

— New York Islanders (@NYIslanders) March 25, 2017
Anthony Beauvillier hit the B button on that spin #Isles pic.twitter.com/J4P62LW7g8

— Rob Taub (@RTaub_) March 25, 2017
Me for the next 13 minutes #isles pic.twitter.com/qdPV8CMSov

— Jim (@JimGolembowski) March 25, 2017
These Ho-Sang boos give me life

— blue & orange bleach (@laddydaddy__) March 25, 2017
IF #isles were shopping Ho-Sang at deadline, I'd say the sale is officially over.

— Andy Graziano (@AndyGraz_SNY) March 25, 2017
I can't take all these tight game either #Isles pic.twitter.com/lQ8GuwYFRh

— IslesBlog (@IslesBlog) March 25, 2017
Super Mario has his eyes on @66jhosang #isles pic.twitter.com/5eQuKQRxAf

— NickLeddysBeard (@NickLeddysBeard) March 25, 2017
OT in Pitt. #Isles get one point, would probably prefer two.

— Arthur Staple (@StapeNewsday) March 25, 2017
me irl #isles pic.twitter.com/3m4u7UHltO

— TomTalksStuff (@TomTalksStuff) March 25, 2017
Halak with probably the biggest save of the season #Isles pic.twitter.com/APU6zeBMZ2

— Rob Taub (@RTaub_) March 25, 2017
My heart can't take this #Isles #Pena OT

— Shannon Hogan (@Shannon_Hogan) March 25, 2017
Well, Halak has been worth the wait. #isles

— jamie stuart (@N12jamiestuart) March 25, 2017
Yes @titobeauvi21 #isles pic.twitter.com/K53swxpGGu

— YeSUV (@IslesWhiteSUV) March 25, 2017
Not a drill JT scored in a shootout. #Isles

— Eyes on Isles (@eyesonislesFS) March 25, 2017
Welcome back Jaroslav Halak pic.twitter.com/roEAfbQsSe

— Rob Taub (@RTaub_) March 25, 2017
Comments
comments