The 5 Hole: No Brotherly Love Tonight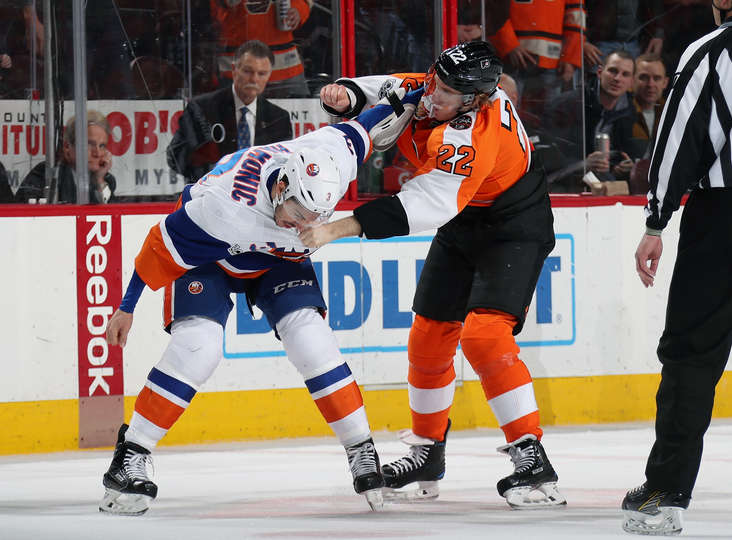 After two disappointing losses, the Islanders season was again on the line tonight as they headed to the City of Brotherly Love for a date with the Flyers. Doug Weight dramatized the importance of this game earlier today and hopefully it finally got through to every player in that room.
Johnny Boychuk returned to the lineup after missing the past four weeks with what seemed to be a broken foot, so the hope was that he could help spark something to a team that has seemed to lost themselves since last week.
On to the game, in a must-win or season is basically over scenario, the Isles fell apart quickly in an ugly 6-3 defeat. They have now lost three in a row. Social media recap below:
Greiss with two huge stops early #Isles pic.twitter.com/4000a55LVf

— Rob Taub (@RTaub_) March 30, 2017
*Opens Twitter on break from class to see #Isles update*
*automatically closes Twitter*

— Ivana Spade (@ivanaspade) March 30, 2017
The Flyers are playing like their season is on the line…interesting concept #Isles

— Eyes on Isles (@eyesonislesFS) March 30, 2017
#Isles fans have to be wondering over the last 3 games especially: where's the desperation?

— Brad Kurtzberg (@sealshockey) March 30, 2017
#isles pic.twitter.com/vVzpzl4U9H

— kerry ??‍♀️ (@Kschwenky) March 30, 2017
Just texted #nhl source on mercy rule. Said they don't have one. I tried folks, I tried. #isles

— Andy Graziano (@AndyGraz_SNY) March 30, 2017
HEY GARTH #ISLES pic.twitter.com/4HtVhFILKD

— Hockey Ranter (@HockeyRanter) March 30, 2017
When Radko Gudas scores a goal, it's time to pack it in. #Isles

— New York Bootleg (@NewYorkBootleg) March 30, 2017
being an islanders fan is just as bad as setting yourself on fire

— brittany (@baevillier) March 30, 2017
Islanders twitter tonight #Isles pic.twitter.com/NoST3st1Cy

— Mike (@BRFC1994) March 30, 2017
"I know! We really suck tonight!" #isles https://t.co/9O6F4dyerV

— TomTalksStuff (@TomTalksStuff) March 30, 2017
Down 5.. we got them right where we want them! #Isles

— Shaun O'Brien (@ansky81) March 30, 2017
— connor (@ConIsles) March 30, 2017
OH THANK GOD ITS VIEWER APPRECIATION NIGHT #isles

— IslesThoughts (@IslesThoughts) March 31, 2017
That's a good moral goal. No shut out. #Isles

— Matt Giordano (@Onadroig_) March 31, 2017
That makes 100 career NHL goals for Cal Clutterbuck! #Isles pic.twitter.com/CvOwWqNWnd

— New York Islanders (@NYIslanders) March 31, 2017
@NYIslanders 100th career goal for Clutterbuck #isles pic.twitter.com/mh6Zlf6qU2

— YeSUV (@IslesWhiteSUV) March 31, 2017
Anders Lee expression says it all #Isles pic.twitter.com/aClPgTX3wO

— Rob Taub (@RTaub_) March 31, 2017
Dead Man Walking (1995) #isles pic.twitter.com/4l85HF2In1

— YeSUV (@IslesWhiteSUV) March 31, 2017
Garth Snow would convince Matt Carkner to come out of retirement before calling up Ryan Pulock #isles

— Noel Fogelman (@thefirstnoel19) March 31, 2017
And we still can't score https://t.co/KV6dfVVxR5

— gods (@HUTGods) March 31, 2017
Good to at least see #Isles defending their captain as the 2nd period ends

— Brad Kurtzberg (@sealshockey) March 31, 2017
Much love to @brendanmburke and @91Butch for trying really really hard to make this game interesting. Nice work boys! #isles

— Mike Powers (@MikePowersLive) March 31, 2017
The highlight of this game is Josh Ho-Sang fist bumping Andrew Ladd. #isles @IslesWhiteSUV pic.twitter.com/iuRsxrCO6J

— Noah Blabac (@NoahBlabac) March 31, 2017
18th of the season for Chimera #Isles pic.twitter.com/TA4CyB8czJ

— Rob Taub (@RTaub_) March 31, 2017
Chimera vs Manning #isles #flyers pic.twitter.com/zjEOogYWpi

— YeSUV (@IslesWhiteSUV) March 31, 2017
On a positive note, entering tonight, the #Isles had a 1.804% chance of the 1st overall pick.

They'll end the night near 3%!

— IslesBlog (@IslesBlog) March 31, 2017
Good garbage goals boys. Good garbage finish #Isles

— TomTalksStuff (@TomTalksStuff) March 31, 2017
(Exactly) 231 goal club:
Andrew Ladd
Eddie Westfall
Billy Harris#isles

— Eric Hornick (@ehornick) March 31, 2017
Comments
comments