The 5 Hole: Still Breathing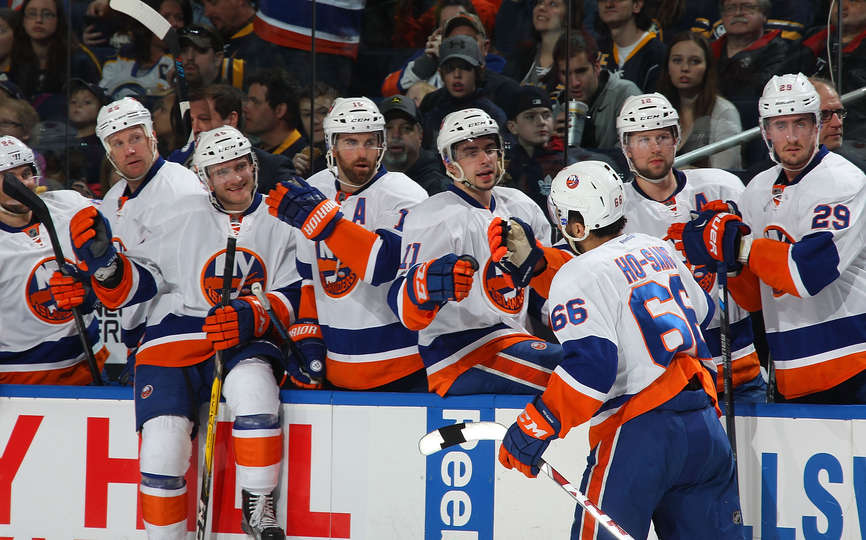 The New York Islanders began the post-John Tavares slate to end the season this afternoon when they headed up to Buffalo for a matinee with the Buffalo Sabres. Coming off the nice win Friday, the Isles were looking to make it two in a row and gain some momentum heading into the final week of what has been a disappointing season. This game was also a chance to keep seeing the excellnet chemistry that is forming between rookies Anthony Beauvillier and Joshua Ho-Sang.
Jaroslav Halak made his second straight start and Bridgeport call-up, 27-year old Connor Jones made his National Hockey League debut on a line with Stephen Gionta and Cal Clutterbuck.
The Islanders were victorious 4-2. Anders Lee scored the game winner and cracked the 30-goal plateau for the first time in his career, and Josh Ho-Sang scored a highlight reel goal. The Isles are still alive with four games to go, anything can happen, but they must win Tuesday in Nashville. The best from social media can be found below:
Hey Butch hate to tell you but the #Isles are essentially running four checking lines today.

— Eyes on Isles (@eyesonislesFS) April 2, 2017
Well, Jones just made the most creative play outside JHS in a month.

— Rookie Example (@KeithLHHockey) April 2, 2017
I must say, Islanders hockey is a pretty good lead into #Wrestlemania33 regardless of the standings #Isles

— IslesBlog (@IslesBlog) April 2, 2017
Atta boy Cal! #isles

— Michael Schuerlein (@islesblogger) April 2, 2017
Bartender! Gimme a shot! #Isles

— The Call of Ctholeg (@OlegKvasha) April 2, 2017
Cal Clutterbuck's wrist shot is back #Isles pic.twitter.com/J6GLgZMpiR

— IslesBlog (@IslesBlog) April 2, 2017
Beau: They give you guys sticks in the AHL?
Jones: Yea pads too
Beau: Hm, never played there. #isles pic.twitter.com/2Np3GaQCm9

— Isles Road Warrior (@IslesRW) April 2, 2017
All of this best of Tavares stuff has a very foreboding tone. I don't like it. #isles

— beamiestface (@beamiestface) April 2, 2017
#isles called up Jones because he's good on the PK.

First PK and he's Not on the ice. pic.twitter.com/hLqaukiHiE

— Daniel Hungerbühler (@MrDanHu) April 2, 2017
The hands of Josh Ho-Sang, nifty #Isles pic.twitter.com/d3B1erJUBA

— Rob Taub (@RTaub_) April 2, 2017
That was some serious Ho-Sizzle. Wowza. #Isles

— Kevin Dexter (@K_Dexter) April 2, 2017
#Isles WHEN I SAY HO, YOU SAY SANG

HO-

— The Call of Ctholeg (@OlegKvasha) April 2, 2017
@steviegio11 says "Not this time" big bro #Isles pic.twitter.com/DzS594ZMwD

— Rob Taub (@RTaub_) April 2, 2017
There will be few bright spots when we look back at this season, but @66jhosang will be one of them. #Isles

— Brian Compton (@BComptonNHL) April 2, 2017
#Isles up 2-1 after 2. Outplayed for long stretches, but they do have Ho-Sang.

— Arthur Staple (@StapeNewsday) April 2, 2017
His jam came on #isles #Real66 @66jhosang pic.twitter.com/MY0KHSzbrc

— YeSUV (@IslesWhiteSUV) April 2, 2017
#Sabres V #Isles joke of the day:
What happened when I took your mom to the Karaoke bar?

Ho-Sang.

*Bows*

— Duffy on WCMF (@DuffyOnWCMF) April 2, 2017
Of all the mistakes Garth made this season, not bringing Halak back earlier ranks right up there. Should be judged harshly for it. #Isles

— Jeff Capellini (@JCapWFAN) April 2, 2017
I really love everything ho sang has brought to the table but the kid has to shoot more #isles

— brandon geraghty (@BJG1994) April 2, 2017
Not only will Josh Ho-Sang be eligible for the Calder Trophy next year, but you'd have a hard time convincing me he can't win it. #Isles

— Daniel Friedman (@DanJFriedman) April 2, 2017
30th goal for @leeberr09! Congrats! #isles pic.twitter.com/r34ESXRMiX

— YeSUV (@IslesWhiteSUV) April 2, 2017
Number 30!!! 🚨 #Isles pic.twitter.com/IfdLG0lXGv

— Matt O'Leary (@MattOLearyNY) April 2, 2017
islANDERS, baby. #isles

— New York Bootleg (@NewYorkBootleg) April 2, 2017
A family affair. The Gionta brothers! #NYIvsBUF pic.twitter.com/EsPk4EPzx9

— New York Islanders (@NYIslanders) April 2, 2017
#isles LW w 30 goals in a season (last 23 years):
3- Moulson (09/10, 10/11, 11/12)
1- Blake (06/07)
1- @leeberr09#NHL

— Eric Hornick (@ehornick) April 2, 2017
Number 31 for Lee #Isles pic.twitter.com/c2CRgFWnOS

— Rob Taub (@RTaub_) April 2, 2017
One Lee Show #Isles 4-2

— Mikolaj Wojcik (@MikolajWojcik) April 2, 2017
#Isles WIN!!

4-2 over the Sabres! #YesYesYes pic.twitter.com/edpd36eZYl

— New York Islanders (@NYIslanders) April 2, 2017
HOW YOU DOIN #isles pic.twitter.com/pGoObRHQ62

— Vinny 🌹 (@RoseTintedVisor) April 2, 2017
Comments
comments