The 5 Hole: Still Rocking Like a Hurricane for Now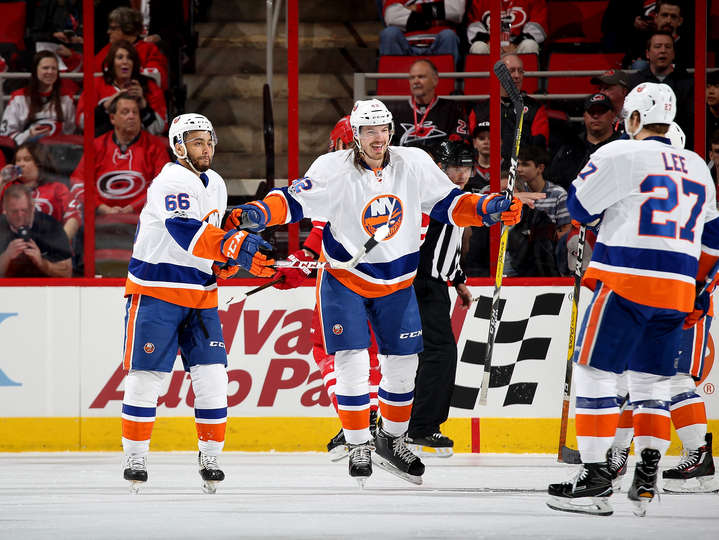 Three games to go, and somehow the New York Islanders are still playing games with at least some magnitude. That can change tonight, but the team seems to have found a new confidence level over the last week. Standing in there way tonight was a familiar thorn in their side: The Carolina Hurricanes.
These two teams have played some wacky games this year, and there's no reason to believe that tonight's game wasn't going to have the same feel. Jaro Halak was in net again as Doug Weight continues to ride the hot hand in what was another must win game.
The Isles again were victorious 3-0. Jaroslav Halak pitched the shutout, while Brock Nelson and Scott Mayfield scored twice in the first five minutes and controlled the play from there. The Isles had to wait till after the game to find out if they will be still fighting for there playoff lives Saturday in New Jersey. The top hits from social media are below:
1-0 @bnelson goal #isles pic.twitter.com/cQwiO2sCNb

— YeSUV (@IslesWhiteSUV) April 6, 2017
Brock baby! #isles

— Michael Schuerlein (@islesblogger) April 6, 2017
Now there's a good start #isles

— Matt Catlin (@MCatlin1984) April 6, 2017
The Big Guy makes it 2-0 #Isles pic.twitter.com/TQwWYkUG7B

— IslesBlog (@IslesBlog) April 6, 2017
I can't wait for the inevitable #isles collapse against the Hurricanes. I've seen that script a few times

— TomTalksStuff (@TomTalksStuff) April 6, 2017
It might bode the #Isles well if they get the next goal, and that's my hard hitting analysis of the night

— Rob Taub (@RTaub_) April 6, 2017
Trying to keep track of the #Mets and #Isles game like pic.twitter.com/zmCknt1xv3

— Will (@willie_pete123) April 6, 2017
I'm still trying to figure out how he kept that puck, HO-MAZING #Isles pic.twitter.com/kbfe8Hf2g0

— IslesBlog (@IslesBlog) April 6, 2017
Gotta score with these four minutes. Put this thing on ice. #Isles

— Eyes on Isles (@eyesonislesFS) April 6, 2017
Boy the #isles really miss Ryan Strome on the Power Play. – a thing Butch actually said.

— Alex Soti (@Ajsoti) April 6, 2017
Barclays is SRO compared to Carolina's arena. #Isles

— Jeff Capellini (@JCapWFAN) April 6, 2017
LADDY DADDY!!! #Isles up 3-0 pic.twitter.com/Z2LsgTZ7YW

— Eyes on Isles (@eyesonislesFS) April 7, 2017
I thought the league abolished powerplay goals. #isles

— Isles Road Warrior (@IslesRW) April 7, 2017
Dare I say…are we… we are eatin' #isles pic.twitter.com/9EpG5I8500

— Jon Cav (@JonCav) April 7, 2017
Ladd communicating with Ho-Sang and explaining things. #leadership #isles

— Michael Schuerlein (@islesblogger) April 7, 2017
Hey look, Josh Bailey's still playing well even without John Tavares.

— Daniel Friedman (@DanJFriedman) April 7, 2017
Jaro 👏👏 #isles pic.twitter.com/Un0iE7D2h1

— YeSUV (@IslesWhiteSUV) April 7, 2017
What's Halak's GAA since coming up? 0.00004? #Isles #Garth

— Jeff Capellini (@JCapWFAN) April 7, 2017
Halak just keeps making Garth Snow look more and more stooopid. #Isles

— kupkrazy (@kupkrazy) April 7, 2017
Butch just used "battle level" #Isles pic.twitter.com/x8rRg3Uw9A

— Rob Taub (@RTaub_) April 7, 2017
That's nice that Greiss threw on the equipment to visit Pulock in jail #FreePulock #isles pic.twitter.com/gu6iTiqGKf

— YeSUV (@IslesWhiteSUV) April 7, 2017
The scoreboard at Barclays may be off center but at least it doesn't malfunction. #isles

— Josh Ho-Shane (@Shwax) April 7, 2017
PP: That time when we have more people on the ice #isles pic.twitter.com/Y2Whf2auHv

— Brittany A. Stone (@BA_Stone) April 7, 2017
Quite the second half for Andrew Ladd, now just 4 goals off his previous six year average. #isles

— Andy Graziano (@AndyGraz_SNY) April 7, 2017
This Halak thing is eating at me in such a way that it will lead to an eventual rant of epic proportions, lol. #Isles

— Jeff Capellini (@JCapWFAN) April 7, 2017
I hate depending on other teams. This is so damn stressful. Why couldn't we take care of business when we had the chance?! #isles

— Islanders Pride (@IslandersPride) April 7, 2017
halak in this game #isles pic.twitter.com/cDk5r3mBG6

— ✨stef ✨ (@stefeeneys) April 7, 2017
BREAKING: Josh Ho-Sang chose to shoot, no this is not a joke #Isles

— Rob Taub (@RTaub_) April 7, 2017
I really wanna root for the #NYR on Saturday

— IslesBlog (@IslesBlog) April 7, 2017
#isles fans refreshing NHL scores #letsdothis pic.twitter.com/tAcyqhwoia

— Renat Epelwoman (@renatipatati) April 7, 2017
#isles have been demoted to the third most important game right now. Bruins game gets the sound now.

— Isles Road Warrior (@IslesRW) April 7, 2017
#Isles WIN!!! 3-0 over the Canes! #YesYesYes pic.twitter.com/2nFfuZg4ux

— New York Islanders (@NYIslanders) April 7, 2017
Comments
comments