The 5 Hole: Running through the Devils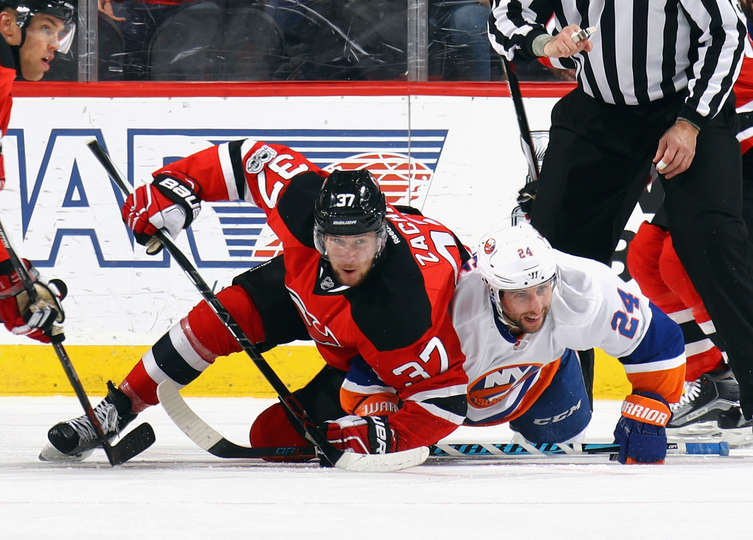 It was do or die for the New York Islanders once again when they took the ice in New Jersey tonight for their final meeting with the Devils. The Isles needed to win to keep their faint playoff hopes alive and hope that the Maple Leafs tripped up in the process.
Jaroslav Halak again got the nod from Doug Weight in another must-win affair, and Nikolay Kulemin made his way back in to the lineup replacing Connor Jones, who was solid since being called up for last Sunday's game up in Buffalo.
On to the game where the Islanders started slow but finished strong in a 4-2 victory. Jaroslav Halak had his shutout streak broken, but was rock solid in net saving the his team in the first period, and Anders Lee potted his 32nd and 33rd goal of the season. The best from social media can be found below:
Good luck #isles fans…..away we go. pic.twitter.com/uGboPWRtTk

— Andy Graziano (@AndyGraz_SNY) April 8, 2017
Big save by Jaro who's been sharp so far #Isles pic.twitter.com/zcUgzKSfd4

— IslesBlog (@IslesBlog) April 8, 2017
If Taylor Hall were to end the #isles season today, we can say that at least it all came full circle.

— Mario Schultz-Sang (@Schultz88) April 8, 2017
How are they looking? Is it bad? Tell me if it's bad.

— connor (@ConIsles) April 8, 2017
Weight said he wanted to put a number on the board early that might make the Leafs notice before they take the ice tonight. Not yet.

— Arthur Staple (@StapeNewsday) April 8, 2017
That @NYIslanders power play #isles pic.twitter.com/knXcC7cyJY

— YeSUV (@IslesWhiteSUV) April 8, 2017
Call a TO and start taking reservations for the first post season golf outing. This team. WAKE TF UP! #isles

— Rich Dias-Rodrigues (@RDNHL) April 8, 2017
Pretty sure #Isles would be down 2-0 at least if Halak wasn't in yet.

— jamie stuart (@N12jamiestuart) April 8, 2017
You're going to protect your goalies, we'll protect ours. #isles

— Michael Schuerlein (@islesblogger) April 8, 2017
JARO 👏👏 JARO #isles pic.twitter.com/FvyyQNTnzM

— YeSUV (@IslesWhiteSUV) April 8, 2017
Other than Halak(told u all for months) that was one brutal brutal period w the stakes about as high as they can get vs a bad team #isles

— Rob Del Muro (@gmen8069) April 8, 2017
#Isles had two power plays in the first. They had 11 shots in the period, four on net. NJ had 23, 14 on Halak.

— Arthur Staple (@StapeNewsday) April 8, 2017
Jaro came to play tonight pic.twitter.com/BuELPuAmV4

— IslesBlog (@IslesBlog) April 8, 2017
the #isles need a time out.

Not like call a time out – they need to be put in a corner and think about what they're doing.

— TomTalksStuff (@TomTalksStuff) April 8, 2017
ADAM PELECH!!! #Isles pic.twitter.com/lhU4aKyioO

— Eyes on Isles (@eyesonislesFS) April 8, 2017
The yout! #isles

— Sean Cuthbert (@seanyhockey) April 8, 2017
No pressure @MapleLeafs
2-0 #isles pic.twitter.com/76NCjQllmk

— YeSUV (@IslesWhiteSUV) April 8, 2017
32 🚨 #Isles pic.twitter.com/c86Xd6o6ng

— Matt O'Leary (@MattOLearyNY) April 8, 2017
Don't worry, guys. I won't update Halak's GAA and save % since returning, lol. #Isles #Garth

— Jeff Capellini (@JCapWFAN) April 8, 2017
The new phrase…"saved by Halak" #YesYesYes #Isles 🔷🔶💁🏻

— Alyse Barker (@IamAlyseBarker) April 8, 2017
Refreshing twitter waiting for the offside ruling. #Isles pic.twitter.com/hLJMSsnwS3

— Matt O'Leary (@MattOLearyNY) April 8, 2017
When it's time to save the isles season pic.twitter.com/VkQtSFP7BR

— connor (@ConIsles) April 8, 2017
After 2. #Isles up 2-0. Can we get MSG to play the Leafs game?

— Eyes on Isles (@eyesonislesFS) April 8, 2017
Jaroslav Halak right now: #Isles pic.twitter.com/tVEUpFK74F

— Rob Taub (@RTaub_) April 8, 2017
Updated for the #isles current circumstances. pic.twitter.com/R4dRNLxiGn

— Isles Road Warrior (@IslesRW) April 8, 2017
As per Rick: #isles pic.twitter.com/qHuqOmWmgx

— Mike Canteros (@MikeyMike81) April 8, 2017
If Kendall Jenner gives the Maple Leafs a Pepsi do they back down and let us in the playoffs? Worth a shot.

— Eyes on Isles (@eyesonislesFS) April 8, 2017
Halak has been an absolute beast tonight. Shame on you Snow. #isles

— Sean Cuthbert (@seanyhockey) April 8, 2017
Insert fire emoji #Isles pic.twitter.com/LTW9bnXgVn

— Eyes on Isles (@eyesonislesFS) April 9, 2017
Oh my god what a pass #isles

— AJ (@austin_casillas) April 9, 2017
Halak inadvertenly ruins his own SO. #isles. That Quine goal is huge now. Huge

— Rich Dias-Rodrigues (@RDNHL) April 9, 2017
No worries Jaro. Nice streak you had there #isles pic.twitter.com/SrsDcykb0A

— YeSUV (@IslesWhiteSUV) April 9, 2017
Bailey to Lee, EASY MONEY pic.twitter.com/zZ3LvX5TrL

— IslesBlog (@IslesBlog) April 9, 2017
Anders Lee had one goal in the first 18 #Isles games. Has 33 now.

— Arthur Staple (@StapeNewsday) April 9, 2017
#isles pic.twitter.com/ccahkbo7GR

— Isles Road Warrior (@IslesRW) April 9, 2017
What a season for Anders Lee! #Isles pic.twitter.com/vzX5889VJE

— Nick Ziegler (@NickZiegler20) April 9, 2017
If the #Isles are still alive tonight, they might have to thank Tom Sestito for it all

— IslesBlog (@IslesBlog) April 9, 2017
At least the #isles have done all they can here…which is in and of itself "debatable".

— Michael Schuerlein (@islesblogger) April 9, 2017
This feels gross.. but…. Let's go Pens… yuck… #maketomorrowmatter #isles

— Sean Cuthbert (@seanyhockey) April 9, 2017
Oh man. #Isles did their part. Living on the edge time. pic.twitter.com/NE8UVF2BOa

— Mike Mason (@MikeMason13) April 9, 2017
#Isles WIN!!! 🙌 4-2 over the Devils! #YesYesYes pic.twitter.com/M2x8PIs6NC

— New York Islanders (@NYIslanders) April 9, 2017
Comments
comments