The 5 Hole: Striking Like Lightning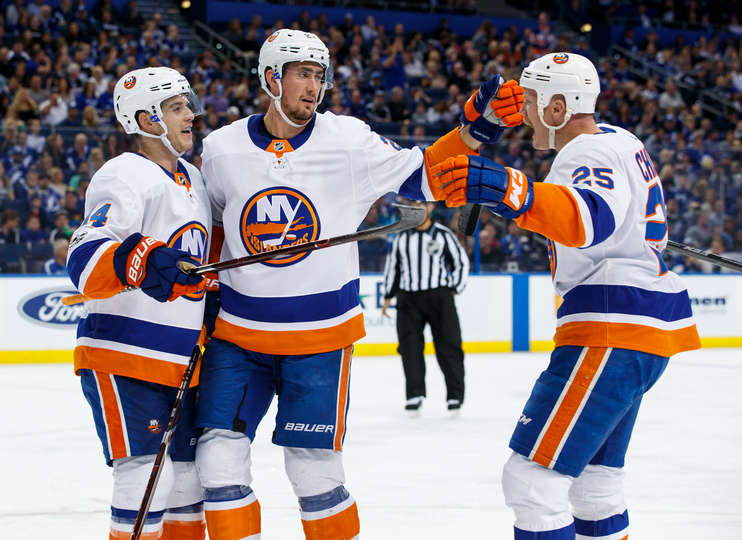 Usually this early in the season, "measuring stick" games come far and few. But in terms of the Islanders tonight, it was staring them right in the face. Winners of eight of their last 12, the Isles were down in Tampa for a pivotal Eastern Conference showdown with the Lightning. Tampa Bay has run roughshod over their opponents since the season began, so Doug Weight and Co. knew they were going to have their hands full.
On the first night of a back-to-back, the Isles were victorious 5-3 in a statement esc victory. The offense was buzzing all night, and Thomas Greiss stood on his head again. New York has now won three in a row and will look to make it a clean sweep this weekend when they head to Carolina for a 5PM matinee tomorrow afternoon. The best hits from tonight's huge win can be found here.
#Isles coming out with a purpose. Ho-Sang to Tavares to Ladd pic.twitter.com/SeVFqDdM1h

— Rob "Not A Guru" Taub (@RTaub_) November 19, 2017
Laddy #isles pic.twitter.com/28qJAskkZB

— cannolifactory (@cannolifactory) November 19, 2017
What a start for the #Isles

— Eyes on Isles (@eyesonislesFS) November 19, 2017
WE PLAYING BEAUTIFUL HOCKEY pic.twitter.com/Wo3HFCOJdI

— connor (@ConIsles) November 19, 2017
ANDERS LEE! ?Number 10 on the year. #Isles pic.twitter.com/58pq2vOzzu

— Matt O'Leary (@MattOLearyNY) November 19, 2017
The ders. #Isles #YesYesYes ?? pic.twitter.com/WZlGJFjA2F

— Ryan Moroney (@ob1moroney) November 19, 2017
Nick Leddy breaking up that 2-on-1 effortlessly. Then Beau skies on the rush the other way #isles pic.twitter.com/7xzwGwJKzn

— Eyes on Isles (@eyesonislesFS) November 19, 2017
If we get good goaltending consistently, we're dangerous #isles pic.twitter.com/xm0ba75zij

— YeSUV (@IslesWhiteSUV) November 19, 2017
I'm hoping this is Greiss making a case for the starter gig. #Isles

— Eyes on Isles (@eyesonislesFS) November 19, 2017
After that period of hockey #isles pic.twitter.com/DIRztZzOw1

— Jon Cav (@JonCav) November 19, 2017
Silky mitts @Bnelson #isles pic.twitter.com/E8W4mkgScC

— YeSUV (@IslesWhiteSUV) November 19, 2017
Brock Nelson! Dilly Dilly! #isles

— Kevin Cosgrove (@kcos194) November 19, 2017
Somewhere @CarverHighCBS is telling people "told ya so" #isles

— Isles Road Warrior (@IslesRW) November 19, 2017
Barzal was down 5 on 1 and still had the advantage here pic.twitter.com/4zp3Jly3q3

— James Dufy (@TwoTurtleDuffs) November 19, 2017
Chimera's gotta be losing his mind. Needs one to fall. #Isles

— Brian Compton (@BComptonNHL) November 19, 2017
Chimera going pretty well again today — already has his first point since Columbus Day — now needs a goal. #isles #NHL

— Eric Hornick (@ehornick) November 19, 2017
Ho-Sang almost broke Twitter. #Isles

— Jeff Capellini (@JCapWFAN) November 19, 2017
Look at Alan Quine going toe-to-for with Nikita Kucherov #Isles pic.twitter.com/quTnk7WRmD

— Rob "Not A Guru" Taub (@RTaub_) November 19, 2017
Going into the third up by 3 #Isles pic.twitter.com/NIu48xgK2x

— please just sign tavares already im a mess (@MyIslanders) November 19, 2017
3rd period coming up. 3-0 lead. #isles pic.twitter.com/XoGTe93Xqu

— Mike Canteros (@MikeyMike81) November 19, 2017
#isles up 4-0 now. Are we doing this? pic.twitter.com/hfIr7v5cYG

— Eyes on Isles (@eyesonislesFS) November 19, 2017
Member when the Lightning killed the islanders every game last year? #isles pic.twitter.com/ZIBCjeCdRD

— Josh (@jetsfan24x7) November 19, 2017
#Isles dads are pumped!! ?? #LGI pic.twitter.com/QPCbAb2hcc

— New York Islanders (@NYIslanders) November 19, 2017
I think I lost 20 pounds in the last 30 seconds. #Isles

— Jeff Capellini (@JCapWFAN) November 19, 2017
Doug Weight not happy and letting his guys know it #Isles pic.twitter.com/2twWtNSxFV

— Rob "Not A Guru" Taub (@RTaub_) November 19, 2017
Captain seals the win #isles pic.twitter.com/DmzxL0I1BT

— YeSUV (@IslesWhiteSUV) November 19, 2017
When you beat the best team in hockey #isles pic.twitter.com/ghIH13t9xn

— YeSUV (@IslesWhiteSUV) November 19, 2017
Another assist for Josh Bailey, his third of the night. Just sayin. #isles

— Andy Graziano (@AndyGraz_SNY) November 19, 2017
On back-to-back Saturday Nights, the #Isles have gone on the road and beat the best teams in the Western and Eastern Conference #YesYesYes pic.twitter.com/NaeXoepYxe

— IslesBlog (@IslesBlog) November 19, 2017
To be the best you need to beat the best! #Isles beat the lighting. YES YES YES!!!! pic.twitter.com/8DpdV4auDL

— joey z (@joey3js) November 19, 2017
#ISLES
W
I
N
!!!!!!!!!!! ??? pic.twitter.com/DnMyWVuZQX

— New York Islanders (@NYIslanders) November 19, 2017
Comments
comments