The 5 Hole: Broadway Beatdown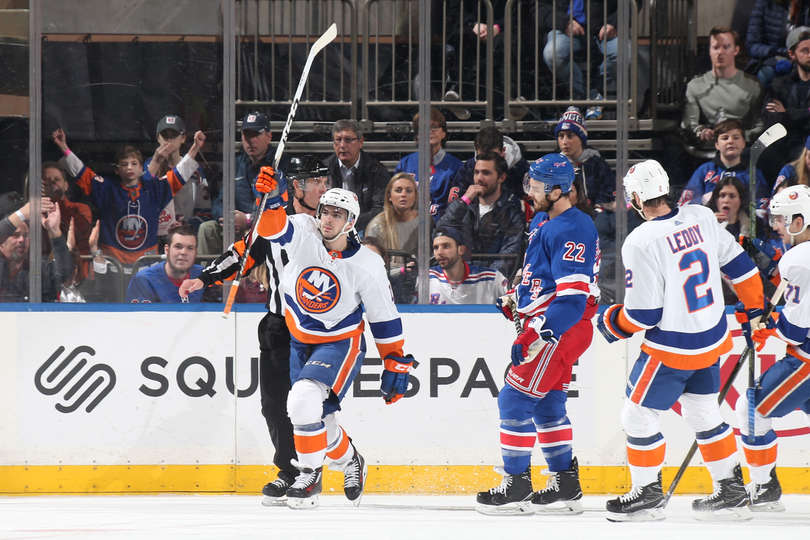 The Isles haven't played since last Sunday afternoon, but the mandatory five-day break was a good time for everyone to reset. The players, the coaches, and the fans included. But, today it was time to get back to business as the unofficial start to the second half of the season began in midtown Manhattan. And what a more fitting way to start their playoff push that a heated afternoon matinee against the New York Rangers.
Michael Dal Colle was set to make his NHL debut after being drafted fifth overall in 2014, while the blue and orange were looking to win on the road for the first time in eight games, a 0-6-1 span.
In game number 44 of the season, the Isles put a hurting on the Rangers 7-2. Jordan Eberle, Mathew Barzal and Anthony Beauvillier combined for 13 points while Jaro Halak had himself one the best games of the season. That's now two in a row for the Isles with four games ahead this week. The best hits from social media can be found here:
Members of the Dal Colle family made the trip from Toronto to cheer on @MDalColle71 in his #NHL debut today! ? #Isles pic.twitter.com/MtNMO7uye7

— New York Islanders (@NYIslanders) January 13, 2018
Just fyi, #isles twitter, Nelson drew that penalty.

— Best Loss of the Season (@Number1Vogel) January 13, 2018
Halak with the first big save of the game on Staal #Isles pic.twitter.com/9FKEs7V8Pf

— Rob Taub (@RTaub_) January 13, 2018
Tank loves playing with Tito #isles pic.twitter.com/aMgMkXtuO6

— YeSUV? (@IslesWhiteSUV) January 13, 2018
Need to keep seeing that from Beau #Isles pic.twitter.com/jcP277EEYl

— Kyle O'Connor (@TotallyKyle23) January 13, 2018
#isles score first?!!
I've heard that's good for them

— Mike Carver (@CarverHighCBS) January 13, 2018
Mathew Barzal showed why he's a Calder candidate by being the catalyst on the first goal for the #Isles

— Jon Lane (@JonLaneNHL) January 13, 2018
Michael Dal Colle's father (Gus) to Shannon on Michael getting his first game at MSG: "Amazing. Just amazing." #Isles

— Rob Taub (@RTaub_) January 13, 2018
h/t to the #Isles fans willing to pay those MSG prices pic.twitter.com/YSGcLmGsIJ

— IslesBlog (@IslesBlog) January 13, 2018
Leddy breakup on the 2 on 1 pic.twitter.com/MFwiwt2kuq

— Rob Taub (@RTaub_) January 13, 2018
Shane Prince missed his plane, not this shot #Isles #NYR pic.twitter.com/SQsl5wu6lF

— IslesBlog (@IslesBlog) January 13, 2018
#Isles pic.twitter.com/iWbV7AVlih

— Rocco Cal (@_Rocco_1) January 13, 2018
#Isles pic.twitter.com/iWbV7AVlih

— Rocco Cal (@_Rocco_1) January 13, 2018
Mathew Barzal just isn't fair #Isles up 3-1! pic.twitter.com/NW4IubUHbG

— Eyes on Isles (@eyesonislesFS) January 13, 2018
Looks like someone spent the off week reading all those Boeser for Calder stories out of Canada

— Arthur Staple (@StapeNewsday) January 13, 2018
Just toying with them #Isles
pic.twitter.com/3PBxcx8L68

— Rob Taub (@RTaub_) January 13, 2018
Some boos from the Garden faithful after #Isles 4th line pins NYR in, then an icing.

— Arthur Staple (@StapeNewsday) January 13, 2018
Total snoozefest by the #Isles pic.twitter.com/uEpiqgFagQ

— The Adventures of SuperNick™ (@Super_Nick_) January 13, 2018
Casey "Zeeked & Destroyed" the door! #Isles

Look at the girl's reaction ??? pic.twitter.com/CcZY1XBiIi

— IslesBlog (@IslesBlog) January 13, 2018
Hmm kid struggles.. kid goes to ahl.. kid works hard.. kid LISTENS.. kid comes back… simple

— Dan Petriw ???? (@DanDanNoodles78) January 13, 2018
Beauvillier, Barzal and Eberle have a combined nine points #Isles

— Jon Lane (@JonLaneNHL) January 13, 2018
Ja-ro! Ja-ro! #Isles pic.twitter.com/RXWaExJ3xc

— IslesBlog (@IslesBlog) January 13, 2018
Puck has been in #Isles end for about 4 minutes. Looks like an angry coach's defensive drill.

— Arthur Staple (@StapeNewsday) January 13, 2018
I'm shook at this game rn. #isles

— sanjana (@minfin_) January 13, 2018
Ebs just made me so wet with that move. #Isles

— Chris Ho-Ward (@Chrishowrad) January 13, 2018
Holy moly! What a move from Jordan Eberle. pic.twitter.com/dhctQMsc7p

— Rob Taub (@RTaub_) January 13, 2018
Gotta say Aho does not look uncomfy out there. Heady, can skate puck to safety. #isles

— Uncle B (@brianschiazza) January 13, 2018
Mathew Barzal has notched 2-1—3 to boost his season totals to 15-27—42 and overtake the rookie scoring lead. #NYIvsNYR pic.twitter.com/V4T84RwoEm

— NHL Public Relations (@PR_NHL) January 13, 2018
Just as the #Isles killed the damn penalties pic.twitter.com/1o9x9Bk8lO

— brienc (@brienyc) January 13, 2018
Eberle is having a hell of a game. #Isles

— Jeff Capellini (@JCapWFAN) January 13, 2018
Thomas Hickey with the second best backhander for a goal this afternoon #Isles pic.twitter.com/X4OG7UdbOS

— IslesBlog (@IslesBlog) January 13, 2018
DOUBLE CHILI!!! ?️?️ #Isles https://t.co/DEJI0Mps7X

— Sarah Maywalt, Stuffed Animal Enthusiast (@SarahMaywalt) January 13, 2018
Clutterbuck puts the extra point up and in, oh and Mathew Barzal for the second time this year has five points in a game. #Isles up 7-2 pic.twitter.com/mj4K5Gt5vA

— Eyes on Isles (@eyesonislesFS) January 13, 2018
VICT?RY!! #Isles win 7-2 over the Rangers! ☝️☝️☝️ #YesYesYes pic.twitter.com/uUyCJKveyN

— New York Islanders (@NYIslanders) January 13, 2018
NYR ownership #Isles pic.twitter.com/sM9MrVWJBl

— IslesBlog (@IslesBlog) January 13, 2018
Comments
comments