The 5 Hole: A Miracle in Montreal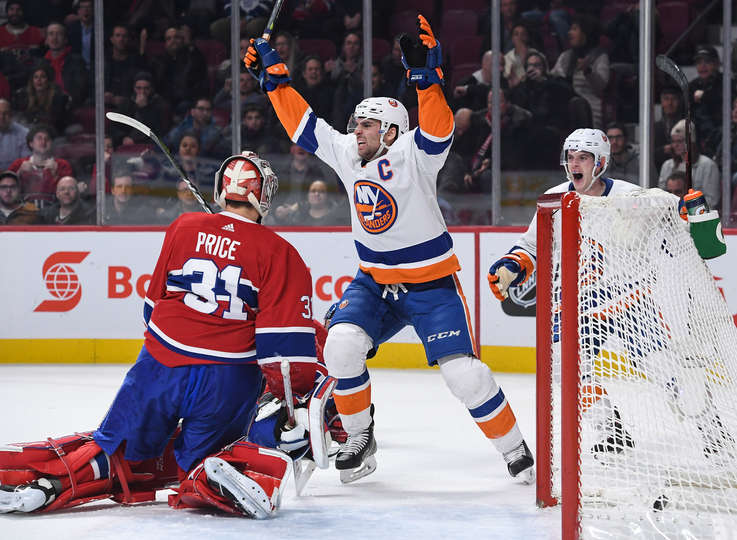 It's been a good start to the playoff push for the New York Islanders. They came out of the bye week Saturday afternoon and walloped the Rangers at The Garden 7-2 for their second win in a row, and first win on the road in their last eight games. They were looking to keep their strong play going as they paid a visit to Montreal for a showdown with the Canadiens.
It was another homecoming for Anthony Beauvillier, while Thomas Greiss got the call for the first of a back-to-back for the Isles. Michael Dal Colle was also looking to secure his first NHL point.
In front of a national-televised audience, the Islanders played a wild affair in a 5-4 overtime win. Thomas Greiss made a remarkable 52 saves, while John Tavares won the game in the extra session. That's three wins in a row for New York, who are right back at it tomorrow night against New Jersey. Top hits from Isles Twitter can be found here from tonight's victory:
Alan Quine on the top line and I'm still betting #isles over.

— ?Isles Road Warrior? (@IslesRW) January 16, 2018
When it's a national game but @brendanmburke is still on the call #isles pic.twitter.com/TS6vrLLD5J

— Eyes on Isles (@eyesonislesFS) January 16, 2018
There's no place like home (and playing next to 13ARZY) #Isles pic.twitter.com/1vBSf4FFzf

— IslesBlog (@IslesBlog) January 16, 2018
That's eight points in the last seven periods for Barzal.

— Arthur Staple (@StapeNewsday) January 16, 2018
When you score on your first shot on goal #isles pic.twitter.com/NyCQnlEB1u

— Donna?? (@Islesfan21) January 16, 2018
I was asked this Saturday and want to reiterate: I'd keep Beauvillier with Barzal and Eberle when Ladd returns. Ride them while they're hot #Isles

— Jon Lane (@JonLaneNHL) January 16, 2018
Tonight also Beauvillier's 100th career NHL contest. #Isles

— Christian Arnold (@C_Arnold01) January 16, 2018
ohhhhhhhhh @johnharper88

Sup? 2-0 #Isles 53 minutes to go. pic.twitter.com/y617dJoKN2

— Michel Anderson (@TLOMitch) January 16, 2018
The Barzal Beau Eberle line right now #Isles pic.twitter.com/SeVd3vFHGc

— Røb Døud (@rdoud12) January 16, 2018
dear bruins,

thank you for passing on mat barzal three times.

love,#isles fans everywhere

— knightvine ☮ (@knightvine) January 16, 2018
If only the #isles weren't equally as good as turning over the puck in their own zone as they are at scoring. Sigh.

— Brittany (@applesiderr) January 16, 2018
#Isles can someone tell Barzal he is a rookie,he continues to be the most impressive player in the NHL.Tavares/Barzal who has a better 1/2 punch

— Butch Goring (@91Butch) January 16, 2018
Canadian Media: JT's leaving #isles

Me: Is Barzal staying?

— YeSUV? (@IslesWhiteSUV) January 16, 2018
I chuckle every time I see this photo because of how it needed to be cropped to be TV appropriate #Isles pic.twitter.com/ppQoxOo9Fq

— IslesBlog (@IslesBlog) January 16, 2018
There's just no excusing that. It's low IQ hockey. #Isles do it a lot in their end

— Jeff Capellini (@JCapWFAN) January 16, 2018
That PP. #Isles pic.twitter.com/u8H8XJpPNX

— Rocco Cal (@_Rocco_1) January 16, 2018
Back in New York #Isles co-owner Jon Ledecky is hosting a viewing party tonight at King Umberto in Elmont! ??

Proud to host members of the 4th and 5th precincts of Nassau County police and their families including Lt. Ed Shanahan and Sgt Michael Sandre. pic.twitter.com/Ax6KQGFpXv

— New York Islanders (@NYIslanders) January 16, 2018
Back in New York #Isles co-owner Jon Ledecky is hosting a viewing party tonight at King Umberto in Elmont! ??

Proud to host members of the 4th and 5th precincts of Nassau County police and their families including Lt. Ed Shanahan and Sgt Michael Sandre. pic.twitter.com/Ax6KQGFpXv

— New York Islanders (@NYIslanders) January 16, 2018
Pelech's first of the year! #Isles up 3-2. (Another assist for Barzal) pic.twitter.com/gguYrFM9ru

— Eyes on Isles (@eyesonislesFS) January 16, 2018
Another 5-point night for Barzal in the offing? #Isles

— Scott Laughlin (@LaughlinSXM) January 16, 2018
3 more points for Matt Barzal tonight.. Kid is on fire. #Isles

— TheSchneid (@gregschneider) January 16, 2018
CAPTAIN SHORTY #isles pic.twitter.com/AsopOHkaIl

— YeSUV? (@IslesWhiteSUV) January 16, 2018
WE score a short handed goal? The #isles?

— Michel Anderson (@TLOMitch) January 16, 2018
GO
GO
GO
SHORTY. #Isles pic.twitter.com/tYZfvQJitN

— New York Bootleg (@NewYorkBootleg) January 16, 2018
Unbelievably, Barzal did not factor in Tavares' unassisted short-handed breakaway goal. #Isles

— Jeff Capellini (@JCapWFAN) January 16, 2018
So instead of a 4-3 game, #Isles still up 4-2 and PKers are rested.

— Arthur Staple (@StapeNewsday) January 16, 2018
Great job in the video room by #Isles Mat Bertani. Talk about being an important cog in the game.

— Butch Goring (@91Butch) January 16, 2018
Nelson better buy Bertani a cup of coffee tomorrow. #Isles

— Brittany (@applesiderr) January 16, 2018
Nelson races out onto the ice! #Isles pic.twitter.com/PIYK8UXfwB

— Jason Zimmermann (@JKZimmermann) January 16, 2018
Jordan Eberle just fell down and Paul Byron got called for interference…. Probably one of the WORST calls you'll see all season. pic.twitter.com/Mvnfq0AQIh

— Shayne Pasquino (@shaynepasquino) January 16, 2018
Sebastian Aho to Brock Nelson: Get off me! #Isles pic.twitter.com/Cjra0ahUZ6

— Rob Taub (@RTaub_) January 16, 2018
Habs just need to keep putting pucks on Greiss, no rebound control and has no idea where the puck is most times. #isles

— Sean Cuthbert (@seanyhockey) January 16, 2018
Good news: We have 4 goals

Bad news: We have 13 shots and we're going to lose

— YeSUV? (@IslesWhiteSUV) January 16, 2018
When does Garth Snow come out of retirement to play goal for the Islanders? That must be soon..no?

— Nick Alberga (@thegoldenmuzzy) January 16, 2018
Josh Bailey: Highlander
Alan Quine: Highlander 2

Harsh but fair.

— Dan Saraceni (@cultureoflosing) January 16, 2018
Through two periods (thanks to @NatStatTrick), Tavares has a 5.26 CF% at 5v5 — on for one shot for and 18 against.

— Arthur Staple (@StapeNewsday) January 16, 2018
At least Michael Dal Colle is having a better night than Michael Cole #Isles pic.twitter.com/oaGsqfrZ0X

— IslesBlog (@IslesBlog) January 16, 2018
STOP BLAMING GREISS.. I repeat.. STOP BLAMING GREISS.. #isles ?

— Toni (@MissToni_Tone) January 16, 2018
The proud parents of @titobeauvi21! #IslesFamily pic.twitter.com/xAbzPpn3G0

— New York Islanders (@NYIslanders) January 16, 2018
The #Isles can score at least four goals a game and lose at least one player in the process in that same game. Just insane.

— Rob Taub (@RTaub_) January 16, 2018
I deliver this GIF under the assumption that @scottmayfield2 will be okay #isles pic.twitter.com/qtO3ruZW20

— Rich Bennis (@RichBennis) January 16, 2018
Greiss keeping the #Isles in the game. pic.twitter.com/klxidqwSyd

— Barclay15 (@hollywood10312) January 16, 2018
State of #Isles D pic.twitter.com/9Y7bi2ysLI

— Brittany (@applesiderr) January 16, 2018
how hard is it to CLEAR THE DAMN PUCK #isles

— トム・リアダイス (@TomTalksStuff) January 16, 2018
Greiss to the #isles after a sip of his waterbottle… pic.twitter.com/187QmfpvKc

— IslesGeorgia (@IslesGeorgia) January 16, 2018
Is it possible to steal a game you led 4-2?

That's what the #Isles are trying to do.

— IslesBlog (@IslesBlog) January 16, 2018
I guess I'll take that point. FUCK! #Isles

— Ryan Moroney (@ob1moroney) January 16, 2018
Tavares ends it in OT! 5-4 #Isles win! pic.twitter.com/rdP0eytvD9

— IslesBlog (@IslesBlog) January 16, 2018
#Isles stealing points, is my jam. pic.twitter.com/CBOn8M8ox2

— Succérookien Tim (@CheepnisNHL) January 16, 2018
John Tavares i fucking love you #isles pic.twitter.com/fO9xUiOq2a

— maddie;) (@maddiedalton27) January 16, 2018
If every team were as exciting offensively and hilarious defensively as the Islanders, hockey would be much more popular in America.

— Mark Lazerus (@MarkLazerus) January 16, 2018
Comments
comments