The 5 Hole: Golden Night in Sin City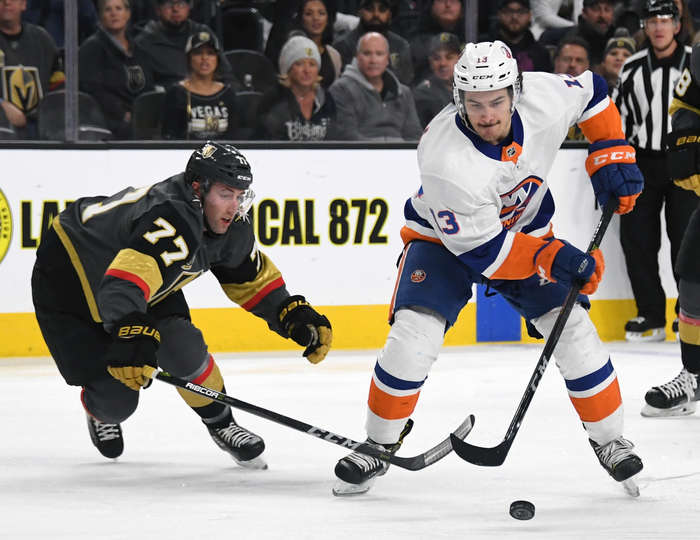 With one game left before the All-Star break commencing this weekend, the New York Islanders were in desperate need of two points to close out their three-game roadie out West. Standing in their way of doing that, the biggest story in sports — the Vegas Golden Knights. Vegas has been on a magical carpet ride in their first year in the NHL, not only being an unthinkable 19-2-2 at T-Mobile Arena, but one of the top dogs in the Western Conference.
The Isles were looking to make five straight road games with at least a point, while Anthony Beauvillier looked to continue his torrid pace of late offensively.
In their first trip to Sin City, the Islanders came away with a 2-1 victory. Jaro Halak was brilliant with 38 saves, while Ross Johnston notched his first NHL goal. The Islanders head in to the break 5-2 in their last seven games. The best hits from late night Isles can be found below:
Leaked footage of @titobeauvi21 trying to gamble in Vegas last night #isles pic.twitter.com/wPOqAZmaw1

— YeSUV? (@IslesWhiteSUV) January 26, 2018
Butch is loving life in Vegas #Isles pic.twitter.com/WIi0tl6e6a

— IslesBlog (@IslesBlog) January 26, 2018
Blue MSG dot for the win #Isles pic.twitter.com/Gig2oHAYtA

— Rob Taub (@RTaub_) January 26, 2018
Apparently we're chanting so loud they had to turn the music up in the arena ?‍♀️?️?️ #Isles

— New Year Same Rin (@rinniekitty) January 26, 2018
Leveled by the linesman ??? #isles #VegasBorn pic.twitter.com/xCSbe1j0Pr

— YeSUV? (@IslesWhiteSUV) January 26, 2018
Every time the #isles third or fourth line is out there… pic.twitter.com/iYJPLAeIBy

— Adam Schechter (@adamschechter) January 26, 2018
Reminder: Barzal for Calder. #isles pic.twitter.com/npCxWH6hoK

— noah (@noahcb_) January 26, 2018
That Matthew Barzal fellow ain't half bad.

— Knights On Ice (@knightsonice) January 26, 2018
why are fans of the other team yelling about the rangers right now?

— Vegas Golden Knights (@GoldenKnights) January 26, 2018
Really is making me angry watching a team play with pace, structure and physicality.

— Rookie Example (@KeithLHHockey) January 26, 2018
Excellent backcheck from Ryan Pulock here #Isles pic.twitter.com/FjiU4fffaK

— Rob Taub (@RTaub_) January 26, 2018
Jaro with a great glove save. #isles pic.twitter.com/jgbRb5CGfS

— noah (@noahcb_) January 26, 2018
What a shit show behind the net #isles pic.twitter.com/ttW1nrO2IO

— YeSUV? (@IslesWhiteSUV) January 26, 2018
Johnston just told Miller that he'll steal his soul. #Isles

— New York Bootleg (@NewYorkBootleg) January 26, 2018
Mathew Barzal strength on full display #Isles pic.twitter.com/mkXmsKSQsp

— Rob Taub (@RTaub_) January 26, 2018
Halak on his A-game tonight #Isles pic.twitter.com/w4ufF3IQBY

— Rob Taub (@RTaub_) January 26, 2018
Ross Johnston's 1st NHL goal w/ a little help from the @GoldenKnights #Isles pic.twitter.com/4qMrpUJmhH

— IslesBlog (@IslesBlog) January 26, 2018
Look at the move from @roscojohnston!! Congrats Johnner! #Isles

— Mike Ianniello (@Ianniello21) January 26, 2018
#Isles fans with the bold "Fleury" chant. Memories of 2013 postseason.

— Arthur Staple (@StapeNewsday) January 26, 2018
BIG ROSS MAN. #Isles pic.twitter.com/dtvoraCk4D

— New York Bootleg (@NewYorkBootleg) January 26, 2018
I hope everyone on #Isles twitter took the under https://t.co/zJQtsf7f5N

— Jeremy S. Weinstein Esquire (@upperdeckie) January 26, 2018
Another really smart play by Ryan Pulock #Isles pic.twitter.com/vabA6sR60U

— Rob Taub (@RTaub_) January 26, 2018
Pelech, Aho and Pulock have really looked good tonight. #isles

— IslesGeorgia (@IslesGeorgia) January 26, 2018
Ross Johnston literally dwarfs @Shannon_Hogan. My god! #isles

— Jaret Czarniecki (@czar0406) January 26, 2018
That penalty call is completely ludicrous #isles

— John (@Enric0Pallazz0) January 26, 2018
This is a penalty on Brock? ? #isles pic.twitter.com/IDdVKcrZSV

— YeSUV? (@IslesWhiteSUV) January 26, 2018
That banging on the glass is giving me motion sickness behind the net. #Isles

— kupkrazy (@kupkrazy) January 26, 2018
#Isles Country collectively gasps as Barzal crashes into the boards. Seems to be OK.

— Brian Compton (@BComptonNHL) January 26, 2018
Nothing but skates – no call #Isles pic.twitter.com/LPDCJTUfSR

— IslesBlog (@IslesBlog) January 26, 2018
David Perron #Isles pic.twitter.com/zn8xU0ArQa

— NickLeddysBeard (@NickLeddysBeard) January 26, 2018
EBB & Flow makes it 2-0 in Vegas! #Isles pic.twitter.com/JIxDaE26kt

— IslesBlog (@IslesBlog) January 26, 2018
Bringing #YesYesYes to Vegas! #Isles pic.twitter.com/061tl4K8ch

— New York Islanders (@NYIslanders) January 26, 2018
Next 2:30 minutes will make the quality of my sleep. #Isles

— @McLocks (@McLocks) January 26, 2018
Halak in the clutch #Isles pic.twitter.com/o54tAgwwcX

— Rob Taub (@RTaub_) January 26, 2018
1- @NYIslanders https://t.co/OzQx6YdxKx

— Mike Carver (@CarverHighCBS) January 26, 2018
#Isles pic.twitter.com/STJ3WcGVro

— Brittany (@applesiderr) January 26, 2018
Comments
comments