The 5 Hole: Trounced in T.O.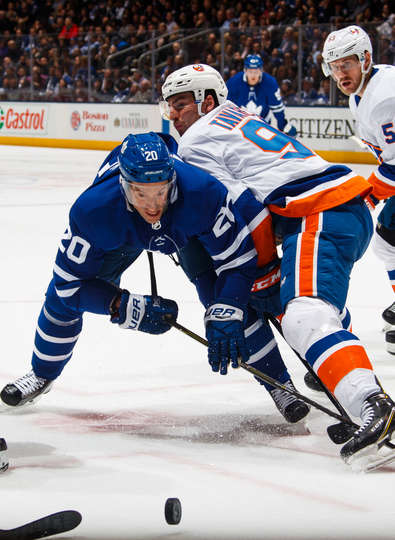 Not much needs to be added about how important tonight's tilt between the New York Islanders and the Toronto Maple Leafs was. The Isles weren't only looking to bounce back from a frustrating defeat 24 hours earlier against the lowly Panthers, but to pick up two large points to put them back in a playoff spot.
Tonight's game was the first of three games between the two clubs. And as always, it was a homecoming for the Ontario natives on the Islanders. — John Tavares, Josh Bailey, Cal Clutterbuck, Casey Cizikas and Adam Pelech. Thomas Greiss also got the start for the first time since his 50-plus save performance back on January 15th.
Andrew Ladd returned to the lineup as the Isles were no match for the Leafs, as they fell 5-0. Social media recap can be found below:
"Doug keeps letting Chimmer play" #isles pic.twitter.com/3oQrlllWr6

— YeSUV? (@IslesWhiteSUV) February 1, 2018
This team is an abysmal failure at protecting the crease. #isles

— Michael Schuerlein (@islesblogger) February 1, 2018
I feel like Butch just subbed us hard with that Matt Martin comment #Isles

— Eyes on Isles (@eyesonislesFS) February 1, 2018
Oh, so it's gonna be one of those nights, is it? #isles

— Andy Graziano (@AndyGraz_SNY) February 1, 2018
Take this guy over Quine and Nelson any day. #Isles pic.twitter.com/qcndOLEpjP

— Rocco Cal (@_Rocco_1) February 1, 2018
#isles pic.twitter.com/zFQtMR934z

— Jason (@BoredJason) February 1, 2018
#Isles need a wake up call. This is the time of the season to NOT have these starts.

— Joe Barone (@28JoeBarone) February 1, 2018
#accountability https://t.co/EhiT8l9f9a

— Kevin Schultz (@Schultz88) February 1, 2018
What is Butch talking about? #isles have done a lot of good things this first period? pic.twitter.com/0QQnQuiNm1

— YeSUV? (@IslesWhiteSUV) February 1, 2018
Oh my goodness, #islestwitter. Who hurt you?

(Don't answer that. I know the answer.)

— Laura Albanese (@AlbaneseLaura) February 1, 2018
#Isles1stPeriodGIF pic.twitter.com/MeqZETXg4k

— Rob Taub (@RTaub_) February 1, 2018
#Isles actually didn't look that bad in the first. Had chances, but Leafs were in position to defend. Toronto chances, #Isles weren't in position. Not a new story.

— Arthur Staple (@ArtStape) February 1, 2018
Upon review, scorekeeper has taken a shot away from #Isles … so Leafs edge on shot clock now 19-3 early in the 2nd#BellLetsTalk

— Mark Masters (@markhmasters) February 1, 2018
If you thought the second period would bring a more energized #isles you were (1) silly for thinking so in the first place and (2) dead wrong.

— Eyes on Isles (@eyesonislesFS) February 1, 2018
Five shots in almost a half game. Five. #isles

— Michael Schuerlein (@islesblogger) February 1, 2018
#isles Leddy now at -101

— the squirming coil that got away (@mrcoyleteach) February 1, 2018
This is pathetic. I'm signing off, here's a picture of my dog. pic.twitter.com/km6gp8AGiD

— Carey (@habermetrics) February 1, 2018
The Islanders have been abysmal tonight. Getting beaten to every puck and outworked by an enormous margin. One and done in the offensive end and a complete disaster in their own.

— Ken Campbell (@THNKenCampbell) February 1, 2018
In fairness, I think trading for Tyler Kennedy or Shane Prince will help elevate the #Isles to contenders.

— Michael Zahn (@miczahn) February 1, 2018
Live look at the New York Islanders pic.twitter.com/FWW8tExzZ0

— Frankie Borrelli (@FrankieBorrelli) February 1, 2018
Thats how close the #isles got to getting back in this game. pic.twitter.com/mqLJuEH3z7

— Eyes on Isles (@eyesonislesFS) February 1, 2018
Freddie Andersen managed to beat Battletoads in between the #Isles last two shots.

— Les Mavus – #FireDougWeight (@HockeyGoalieEh) February 1, 2018
The last 8 weeks of this #isles season is like one of those nightmares you know you're having but can't wake up from.

— Peter Caputo (@PeteCaputo) February 1, 2018
#isles pic.twitter.com/51XHo83mf7

— noah (@noahcb_) February 1, 2018
I want to turn it off. I really do. But I'm a sick, sick person. #Isles

— Jeff Capellini (@JCapWFAN) February 1, 2018
The only positive this period. The #isles killed penalty

— Eyes on Isles (@eyesonislesFS) February 1, 2018
Islanders have now been outscored 8-1 in their 5 periods out of the break.

— Ted Starkey (@TedStarkey) February 1, 2018
Casey Cizikas has been back in the lineup for five periods now and is nearly going back to being injured every shift. Jeez. #Isles

— Rob Taub (@RTaub_) February 1, 2018
Gonna post this again, because it's so #Isles. pic.twitter.com/tGHBfgvAnb

— kupkrazy (@kupkrazy) February 1, 2018
Too bad Howie isn't around to ask if Spring Training started yet #isles pic.twitter.com/B6cirOp9WV

— YeSUV? (@IslesWhiteSUV) February 1, 2018
Current mood… #Isles https://t.co/FXkGrfMcGC

— Isles Trade Central (@islestradecen) February 1, 2018
This team needs a wake-up call. NOW! #Isles ? pic.twitter.com/r8PxdrNms8

— Theresa F (@TFLINY) February 1, 2018
The last five periods for the #Isles:
-Outscored 8-1
-Outshot 72-47
-Completely dominated in the defensive zone

— Rob Taub (@RTaub_) February 1, 2018
This defensive performance by the Islanders tonight is the worst I've seen since.. the last time I watched the Islanders play

— Dimitri Filipovic (@DimFilipovic) February 1, 2018
BRO, dress Weidman & Johnston. Let's smash some fools. #Isles

— New York Bootleg (@NewYorkBootleg) February 1, 2018
I love that when the #isles do great – talking heads ignore them. Once they do bad, oh hey boy do those isles suck don't they?

— Michael Schuerlein (@islesblogger) February 1, 2018
This was not a penalty #Isles pic.twitter.com/zAlxm0zRzD

— Rob Taub (@RTaub_) February 1, 2018
sigh…#Isles pic.twitter.com/sKOhVMXgsN

— Eyes on Isles (@eyesonislesFS) February 1, 2018
— Laura Albanese (@AlbaneseLaura) February 1, 2018
That's two first career goals given up by the Islanders tonight? What else is new? #Isles

— Rob Taub (@RTaub_) February 1, 2018
I don't care how fun the Isles are sometimes, no team can be taken seriously when they give up this many goals so regularly.

— Peter Botte (@PeterBotte) February 1, 2018
The #Isles have been outscored 12-1 in the last 5+ periods in Toronto.

— Eric Hornick (@ehornick) February 1, 2018
"You're gonna get my piece of meat."

Classic Butchie! #Isles

— New York Bootleg (@NewYorkBootleg) February 1, 2018
Not a penalty, and could have been way worse #Isles pic.twitter.com/oz6j2YNgUx

— Rob Taub (@RTaub_) February 1, 2018
Since Dec. 21, #Isles have played 18 games. They've allowed 40+ SOG eight times. Also 39 3x, 38 twice, 37 twice. Only guys missing that whole stretch: de Haas, Ho-Sang, Kulemin. Is it really as simple as that?

— Arthur Staple (@ArtStape) February 1, 2018
#Isles were a lot more fun to hang out with in 2017.

— Sean Cuthbert (@seanyhockey) February 1, 2018
Comments
comments