The 5 Hole: Glorious Greiss in Raleigh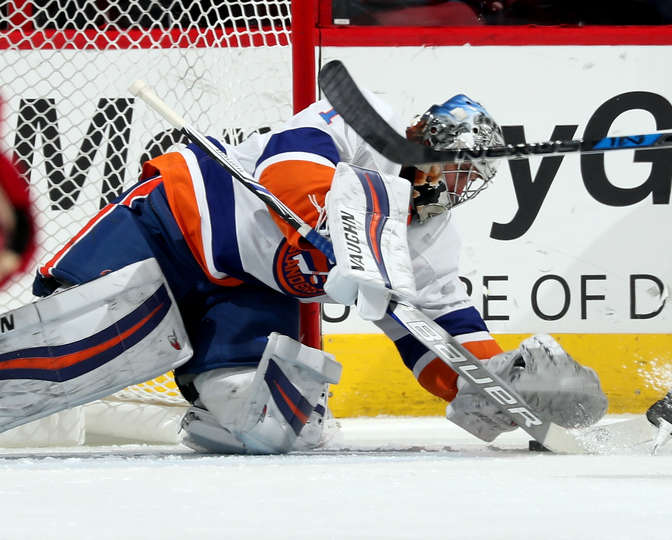 If the Islanders were going to continue to stay in the race for the playoffs, they know they were going to have to lay it all on the line earlier this evening in Raleigh against the Hurricanes. Coming off their 3-0 victory over the Rangers last night, the Isles were right back at it on the second half of a crucial back-to-back swing.
Both the Isles and the Canes are withing a point of each other as they are still fighting for either of the two wild card slots in the Metro. So it was safe to say, once again, that tonight was the biggest game of the season for both clubs. The game also featured a marquee moment in NHL history, as the two Sebastian Aho's faced off for the first time ever.
Thomas Greiss got the call in goal, as New York won their second in a row 3-0. Thomas Greiss was brilliant making 45 saves, while Anthony Beauvillier's fantastic effort was the insurance the Isles needed. Doug Weight and Co. now get a few days off before a Monday matinee at home with the Wild. The top hits from social media from tonight's big win are below:
Live look in at Raleigh: Sebastian Aho covering Sebastian Aho #isles pic.twitter.com/S7G265KjLd

— Negative Creep (@njalbanese) February 17, 2018
Love seeing the Fisherman Jersey in the stands, especially when the fan has a white beard #Isles pic.twitter.com/OKuAJJvDH5

— IslesBlog (@IslesBlog) February 17, 2018
#isles game today with that wild aho-on-aho action pic.twitter.com/nvCRQoRDIL

— Friedrich Sarah E. Thompson ? (@fsethompson) February 17, 2018
Hey guess what?! The #isles are sloppy exiting their zone.

This has been a regularly broadcast message.

— Eyes on Isles (@eyesonislesFS) February 17, 2018
Are we sure these two aren't related?#Isles #Redvolution pic.twitter.com/l17rgWvIB4

— IslesBlog (@IslesBlog) February 17, 2018
Greiss is woke tonight! Hopefully, this keeps up for the next 50 minutes. #isles pic.twitter.com/t3xL8EwDWD

— Eyes on Isles (@eyesonislesFS) February 17, 2018
Objective for Isles tonight is to keep heat off Greiss. So far, they've allowed only 6 shots (through 10:35) and he has stopped all of them.

— Mark Herrmann (@markpherrmann) February 17, 2018
Nelson with a nice move #Isles pic.twitter.com/2PW19pmKaM

— Rob Taub (@RTaub_) February 17, 2018
#Isles yesterday you attacked in the offensive zone, today letting play come to you pic.twitter.com/Uj4fujKxay

— D J Connors (@hockeygal62) February 17, 2018
Johnny Rocket! #isles strike first pic.twitter.com/YeYiweohnC

— Eyes on Isles (@eyesonislesFS) February 17, 2018
55 from the parking lot #isles

— YesMenOutfitters (@YesMenOutfitter) February 17, 2018
Oh hey Brock Nelson got a point there. That's his 8th point in 8 games. #hawt #isles

— Eyes on Isles (@eyesonislesFS) February 17, 2018
Greiss with his biggest save of the night #Isles pic.twitter.com/pkAmsnTHGl

— Rob Taub (@RTaub_) February 17, 2018
That's the equivalent of getting out of a bases loaded jam #isles

— gary sanchez (@garysanchezjr) February 17, 2018
28 saves for Greiss through two periods. #Isles

— Brian Compton (@BComptonNHL) February 17, 2018
3rd Period #isles pic.twitter.com/Ps8BSW7x3d

— Terry? (@ttss11) February 17, 2018
Matt Bertani never fails #Isles

— Rob Taub (@RTaub_) February 17, 2018
Also an addition to the coaching staff this year working on video is Doug Howela. He's a big part of getting those challenges right too. #isles

— Shannon Hogan (@Shannon_Hogan) February 17, 2018
Phew. Caught a break there. #Isles pic.twitter.com/kgoCtxS7nm

— Rocco Cal (@_Rocco_1) February 17, 2018
Instead of a billboard, just give the cash to Matt Bertani. #isles

— Brian (@Das_Wilhelm) February 17, 2018
BEAU-LIEVE! 2-0 #Isles pic.twitter.com/IWaRZciQJT

— IslesBlog (@IslesBlog) February 17, 2018
BEAUtiful #isles pic.twitter.com/RPoXXzwIWa

— Dan Petriw ???? (@DanDanNoodles78) February 17, 2018
#YesYesYes in Raleigh after @titobeauvi21's ?! ☝️☝️☝️@islesmeetup_clt pic.twitter.com/TAp88Jf4x7

— New York Islanders (@NYIslanders) February 17, 2018
Some motor on Tito #isles pic.twitter.com/6MhJ8SRIhk

— YeSUV? (@IslesWhiteSUV) February 17, 2018
There is literally only one explanation for the #isles posting back to back shut outs on 90+ combined shots: BILLBOARD.

— Pat Shmurda (Ethan) (@EthanGSN) February 17, 2018
Thomas Greiss wants this win, and wants it badly #Isles

— Rob Taub (@RTaub_) February 17, 2018
Greiss has played his HEART out tonight…win this one for him #isles

— mel (@melissaaa_nyi) February 17, 2018
Props to Greiss. Some game #isles pic.twitter.com/Tu2kH3Rc97

— YeSUV? (@IslesWhiteSUV) February 17, 2018
Tonight was impressive. 44 shots is still not sustainable, but, hey, it was 6 less than last night. #progress #Isles#SnowMustGo

— Jeff Capellini (@JCapGLJ) February 17, 2018
Comments
comments