The 5 Hole: Missed Opportunity in MTL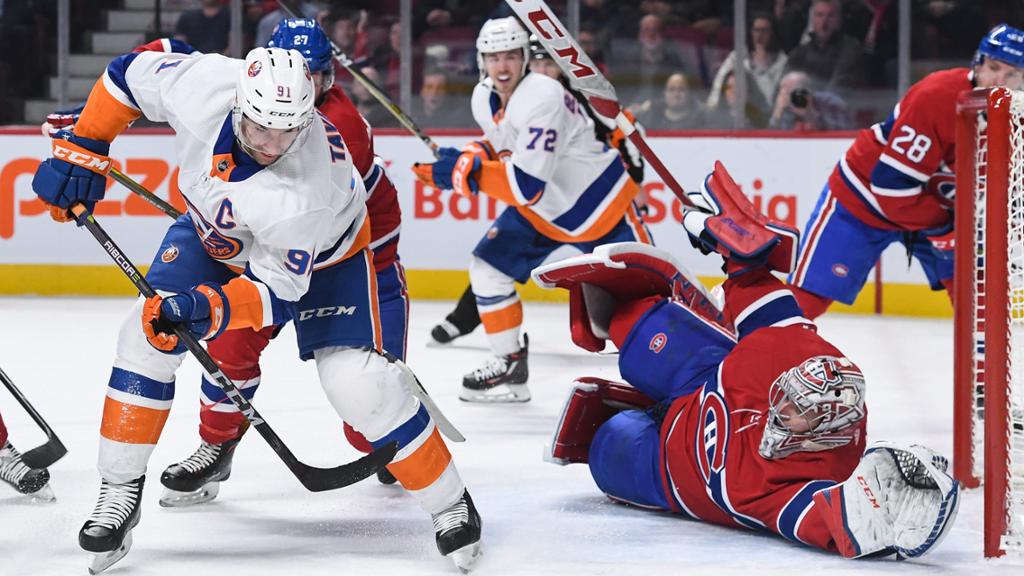 There wasn't much that needed to be said as the Islanders faced off with the Habs in Montreal earlier this evening. 19 games remaining for the year, and every single point the team gets is crucial. Coming off their frustrating defeat on Saturday in New Jersey, securing anything but two points North of the border could lead to the dagger that wouldn't only severely damage the Isles playoff hopes, but end them abruptly.
New York and Montreal were playing the first of a home-and-home with the two teams set to meet in Brooklyn on Friday. The Isles took the first game in Montreal in a wild 5-4 OT win a month earlier including a 52-save performance from the now-injured Thomas Greiss.
The Islanders needed a win in any possible fashion, and they fell to the Canadiens 3-1. New York has now lost four in a row. Social media recap is below:
The speed and the finish. Mat Barzal #Isles pic.twitter.com/TuAs0J7myh

— Rob Taub (@RTaub_) March 1, 2018
Mat Barzal. Boy Wizard. #isles pic.twitter.com/s1sCT4OJJ1

— Tony Stabile (@tonystabile) March 1, 2018
#HockeyHugs ? #LGI pic.twitter.com/UFrOU2yy9M

— New York Islanders (@NYIslanders) March 1, 2018
What is happening right now lol #isles

— Michael Schuerlein (@islesblogger) March 1, 2018
Best way to kill a penalty?

Play in their zone. #isles

— Eyes on Isles (@eyesonislesFS) March 1, 2018
The craziest thing is there were 4 islanders right in that spot they want those 4 islanders in.

— Rookie Example (@KeithLHHockey) March 1, 2018
Land of 1000 passes on the Powerplay #Isles

— Schark22 (@Schark22) March 1, 2018
Mathew Barzal's goal tonight vs MTL gives him 67 points in 2017-18- ties John Tavares (2010-11) for the 3rd most in a season by an @NYIslanders player aged 20 or younger

— StatsCentre (@StatsCentre) March 1, 2018
Brandon Davidson's gotta good head of hair on him ? #isles #analytics

— Scheben (@Scheben) March 1, 2018
Wow Fritz looked lost out there… #Isles

— Casey Facetious (@CaseyFacetious) March 1, 2018
The JT Lee and Bailey line can't buy a goal right now #isles

— Louis Onofrio (@louisonofrio) March 1, 2018
An ideal player has:
Barzal's speed.
Barzal's hands.
Barzal's vision.
Barzal's goal-scoring ability.
Joe Thornton's beard.

— Marc Dumont (@MarcPDumont) March 1, 2018
Defense….defense…defense #Isles pic.twitter.com/awdfFbeTOo

— ??????? ???????? (@MikeMason13) March 1, 2018
#Isles pic.twitter.com/nerO5pdfz0

— Josh Elkin (@JoshElkin) March 1, 2018
#isles pic.twitter.com/XOmLSwEwtj

— Johnny Want Ringy (@themattmead) March 1, 2018
That #Isles commercial on MSG has not aged well..

— Sean Cuthbert (@seanyhockey) March 1, 2018
Tavares line having its best game in weeks and DW swaps Tavares and Barzal. Huh.

— Arthur Staple (@StapeAthletic) March 1, 2018
The #isles have an uncanny ability of making every goalie they face look like an all-star. ALL-STAR!

— Michael Schuerlein (@islesblogger) March 1, 2018
There are people that are more pissed about the billboards than this team. #Isles #SnowMustGo

— Chris Howard (@Chrishowrad) March 1, 2018
Good hustle Halak #isles pic.twitter.com/Lp8qNDXkck

— Kiki Brock (@KristinBrock) March 1, 2018
I once had the feeling the #ISLES would turn things around and make the playoffs pic.twitter.com/XuPq5zWIAh

— Dan Fisher (@DanoFisher) March 1, 2018
The Isles rolling with Tanner Fritz in a perceived must-win with Josh Ho-Sang in the A has to be the biggest red flag of how an organization feels about a prospect going (ever?).

— Justin Bourne (@jtbourne) March 1, 2018
The #Isles haven't had a point from a players not on the second line in three games.

— Rob Taub (@RTaub_) March 1, 2018
My response to #Isles hockey pic.twitter.com/pfdM4rUlGJ

— Mr. Cage (@ElvisCage) March 1, 2018
If the #isles played with the intensity that they have when they're losing 3-1 with 7 minutes left all game long… they'd win a lot more games pic.twitter.com/qd1qNnGJqZ

— Anthony (@AnthonyWEHM) March 1, 2018
#Isles pull their goalie for extra skater, Tavares gets possession, winds up to shoot, stick breaks pic.twitter.com/1uheyXd6od

— danielle (@DANyellin4Miley) March 1, 2018
— Eyes on Isles (@eyesonislesFS) March 1, 2018
Comments
comments