The 5 Hole: Vulnerable in Vancity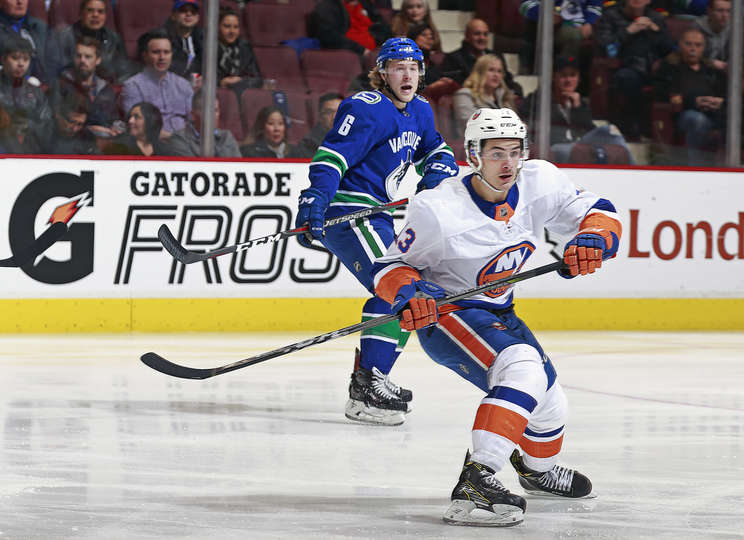 With the weeks of the season now dwindled down to five, time is no doubt running out on the New York Islanders to find a way to get back to the playoffs. But even with that reality in the near future, the Isles still have a sliver of hope, yes a sliver. And with an opponent tonight in the Vancouver Canucks — whose season is basically over — the Islanders were in need of their best all around performance of the season.
Not only was New York trying to break an 0-5-1 skid, but tonight was going to be a ultra special night for rookie sensation, Mathew Barzal. The Coquitlam, BC native has had tonight circled on the calendar for a long six months to play in front of a barrage of family and friends. Oh and there was the headline that it was Barzal going up against Brock Boeser — the top two freshmen in the game today.
On what was a memorable evening, Barzal and the Isles fell 4-3 in OT. The team's losing streak has now reached seven games. New York will look to break their losing ways Thursday in Edmonton. Social media recap here:
Proud supporter of the Tank & Tank#TankBarzal #AllForIslesTanking #isles pic.twitter.com/bj9JkuciA9

— YeSUV? (@IslesWhiteSUV) March 6, 2018
There's more true love in Vancouver for Mat Barzal than there is on #TheBachelor #Isles

— IslesBlog (@IslesBlog) March 6, 2018
Live look at Mat Barzal #isles pic.twitter.com/kfCki0IMgI

— Josh L. (@JLen39) March 6, 2018
? Barzal #TankBarzal #isles pic.twitter.com/As8Ix3cJLu

— YeSUV? (@IslesWhiteSUV) March 6, 2018
Bailey waits and goes 5-hole 1-0 #Isles pic.twitter.com/8fZ05I7S6J

— IslesBlog (@IslesBlog) March 6, 2018
Career points, #isles
14. Josh Bailey 370
15. Stefan Persson & Kyle Okposo 369 #NHL

— Eric Hornick (@ehornick) March 6, 2018
This is Cal Clutterbuck's 700th NHL game.

Comments are now closed on this tweet.

— Arthur Staple (@StapeAthletic) March 6, 2018
You talk about being on your toes up in the toy department, albeit, fortuitous chip n chase. No doubt about it. #isles

— Sean Cuthbert (@seanyhockey) March 6, 2018
Good period? #Isles (h/t @RickCarpiniello)

— Brian Compton (@BComptonNHL) March 6, 2018
Tavares from Hickey and Barzal #Isles pic.twitter.com/9xiRQrqGey

— Rob Taub (@RTaub_) March 6, 2018
When you see that Thomas Hickey one touch pass #isles pic.twitter.com/Th8jVflXvp

— Josh L. (@JLen39) March 6, 2018
Assist. No. 50 for Barzal.

— Arthur Staple (@StapeAthletic) March 6, 2018
That was pretty. JT having a good game finally. #isles

— Michael Schuerlein (@islesblogger) March 6, 2018
Mathew Barzal: 69 points ?? #Isles

— Rob Taub (@RTaub_) March 6, 2018
Am I sleeping or did the #isles just score a November 2017-esque goal

— Ugh (@PuppyChrisT) March 6, 2018
Islanders are 31st in NHL with 35.9 shots-against-per-game. Through 26 minutes, #Canucks have 7.

— Iain MacIntyre (@imacSportsnet) March 6, 2018
Mat Barzal, who has 50 total assists as a rookie, is now tied with McDavid, Draisaitl and Marchessault for the league lead in even-strength assists. Kid's alright.

— John Matisz (@MatiszJohn) March 6, 2018
Great story from @Barzal_97's mother Nadia on Mat about him as a baby #Isles pic.twitter.com/n0OCJOdoj6

— Rob Taub (@RTaub_) March 6, 2018
Lol. Kill me. Please. #isles pic.twitter.com/xEp6FchG4u

— Mike Canteros (@MikeyMike81) March 6, 2018
@91Butch "Hickey has been the best #Isles defenseman this year" That right there is all the proof needed for you to retire from broadcasting games!!! ?????

— Henhouse (@BridalTravelGuy) March 6, 2018
Tie game heading into the third. #IslesTwitter after dark is about to get weird

— James "Billboard" Duffy (@TwoTurtleDuffs) March 6, 2018
? Barzal family! #Isles pic.twitter.com/yrXuuoOszt

— New York Islanders (@NYIslanders) March 6, 2018
LOL, we're all idiots. #Isles https://t.co/Mn2lz2S8Mk

— Jeff Capellini (@JCapGLJ) March 6, 2018
Breakdown R Us #isles

— Salvatore Farieri (@sfarieri) March 6, 2018
3 unanswered goals. Staying awake just to see the 7th loss in a row. #isles pic.twitter.com/jhUQA71PjL

— Jon Cav (@JonCav) March 6, 2018
#isles It didn't have to be this way. pic.twitter.com/ka0rZhnmEa

— thereluctantk (@thereluctantk) March 6, 2018
The goal by Virtanen was the 238th allowed (excluding shootouts) by #Isles this season; they allowed 238 all last year. #NHL

— Eric Hornick (@ehornick) March 6, 2018
Eberle #isles pic.twitter.com/Ta0luYREVu

— YeSUV? (@IslesWhiteSUV) March 6, 2018
EBERLE YOU SEXY MAN #YESYESYES #ISLES LETS WIN THIS NOW!!!! pic.twitter.com/yObEYhpGyP

— Johnathan Rizzi (@Johnathan_Rizzi) March 6, 2018
May Barzal might have just clinched the Calder tonight. #isles

— Probably Ross Johnston (@IslesRW) March 6, 2018
With a point, the #Isles avoid falling under a NHL .500 for the first time since October 11th when they were 1-2-1.

— IslesBlog (@IslesBlog) March 6, 2018
Brock Nelson < Brock Boeser < Doors #isles #Canucks

— Probably Ross Johnston (@IslesRW) March 6, 2018
Man this is beyond brutal #isles

— Paul Agrait (@Agrait16) March 6, 2018
Comments
comments