Islanders Have to Be Pleased With Brock Nelson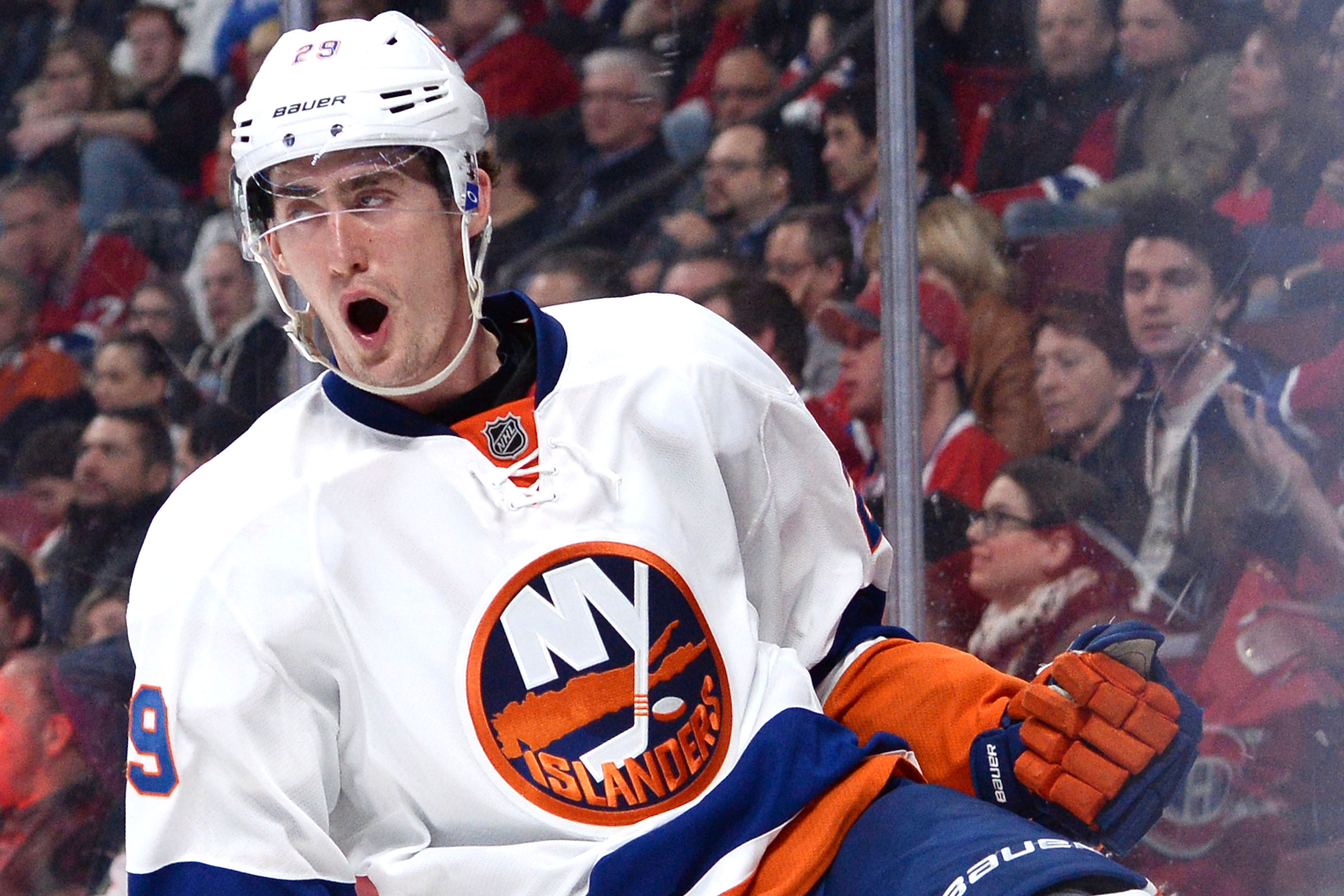 MONTREAL, QC - APRIL 10: Brock Nelson #29 of the New York Islanders celebrates after scoring the second goal against the Montreal Canadiens during the NHL game on April 10, 2014 at the Bell Centre in Montreal, Quebec, Canada. (Photo by Francois Lacasse/NHLI via Getty Images)
The New York Islanders took a gamble on Brock Nelson when they signed him to a one-year, $4.25 million restricted free-agent deal this past offseason. So far, it appears to be paying off handsomely.
After an unsightly stretch in 2017-18 that saw the 27-year-old Minnesota native rack up just 13 points (nine goals, four assists) over the Isles' first 40 games, Nelson turned things up a bit, notching 10 goals and 12 assists in the second half of the year.
Clearly, the new regime saw enough value and talent in Brock Nelson to give him the modest raise he was looking for — a palatable $1.25 million increase from the $3.5 million he earned in '17-'18.
Over his first five NHL seasons, Nelson somewhat-quietly amassed 99 goals and 89 assists over 398 games. Overlooking more than a few prolonged stretches in his career when Nelson has looked absolutely lost on the ice, this young man's ceiling as an NHL player is still relatively high.
With a more substantial paycheck to justify and unrestricted free agency looming this offseason, Brocktober reared it's glorious head once again this season, with Nelson netting six goals and an assist in the opening month of the year.
Despite the wariness from some pockets of the fan base that Nelson would fade back into the abyss after his hot start, by all accounts, Brocktober has stretched clear into 2019.
Over the Islanders' first 44 games, Nelson has 16 goals only three off of his total from last year (19), and 14 assists, two helpers shy of the 16 he put up in 2017-18. As he has been over his career (two games missed since the start of 2014-15), Nelson has been on the ice consistently — to say the least.
In all actuality, he's on the ice more this season than he ever has been previously. Isles head coach Barry Trotz has Nelson averaging 18:03 of ice time per game, which when compared to his 15:17  ATOI from 2012-2017 makes this writer wonder why Jack Capuano, and then Doug Weight, appeared to hold Nelson back.
From this writer's perspective, all Brock Nelson appears to have needed was some added responsibility, a clear vote of confidence from the coaching staff, and, voila, gone is the unsure, hesitant, thisclose-to-taking-the-next-step-but-can't Nelson of old.
What the Islanders have now is a more self-assured player; confidence not just in his skills, but that he belongs here and knows he can succeed. Each and every shift, Nelson shows conviction and drive. The mistakes have been fewer and farther between this season, for sure.
Whether Nelson's sky-vaulting value will tempt Lou Lamoriello's hand as the trade deadline nears, or instead induce the Isles' team brass to begin thinking about offering this still-very-much-in-his-prime player a long-term, (hopefully) team-friendly extension is yet to be determined.
In this writer's opinion, Brock Nelson is a perfect fit for this Islanders squad. From top to bottom, this roster is hard-nosed, offensively skilled, defensively accountable, and oozing with confidence (just as an aside, that's a pretty great team identity to assume). Brock Nelson checks all those boxes, so why wouldn't the Isles want him to be a part of this?
Big decisions lie ahead, but in the meantime, let's sit back and enjoy the blossoming of a flower we thought might never do so.
Comments
comments
Tags :
Brock Nelson
Islanders
New York Islanders