Isles Approaching Dominant Levels of Stinginess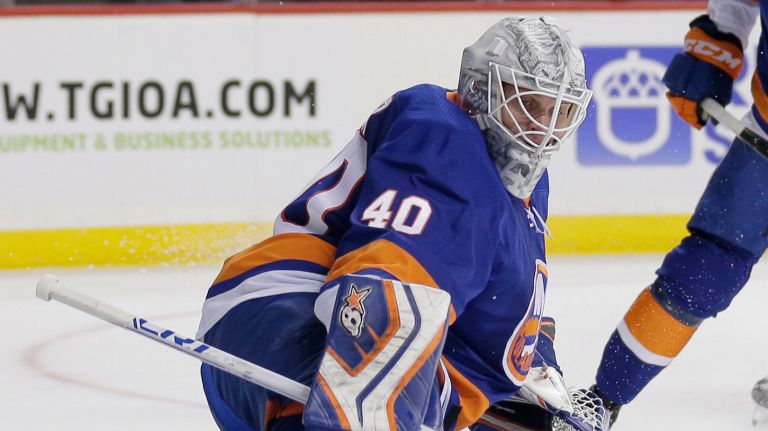 The New York Islanders are simply steamrolling opponents. The current Metro division leaders are playing superbly, with the defensive identity of this Isles squad making itself crystal-clear; don't give up an inch.
The Isles' nearly impermeable goaltending duo of Thomas Greiss and Robin Lehner are providing a proverbial brick wall along the goal line and a rock-solid foundation keeping this ever-growing structure on solid footing.
Since the calendar turned to January, Barry Trotz' spirited bunch have gone 9-2 (after Sunday's 3-0 win over Anaheim) with the aforementioned netminders allowing just 17 goals over those 11 games, including just three goals allowed over the Isles' last five games, all victories, as well as consecutive shutouts from Greiss and Lehner on Friday and Sunday, respectively.
With Sunday's win at a raucous Nassau Veterans Memorial Coliseum in Uniondale, the Islanders left the ice with a three-point lead in a tight Metro, with Columbus and Washington sitting at 59 points and Pittsburgh just behind them with 58 points.
The Islanders' defensive corps, led by an upstart Johnny Boychuk and solidified by a solid supporting cast in Ryan Pulock, Scott Mayfield, Nick Leddy, the incredibly talented and awfully impressive Devon Toews, and, to a lesser extent as of late, Adam Pelech have been downright stingy.
Over the team's current five-game winning streak, the Isles have allowed 125 shots on goal with just 55 shots making their way to Greiss and Lehner over the last three of those wins.
Robin Lehner, currently leading the NHL with his 2.11 goals against average and sitting hundredths of a percentage point behind Jack Campbell of the Los Angeles Kings (.928 to Campbell's .931) in the save percentage leaderboards, had some uplifting words to share during his postgame interview with MSG's Shannon Hogan after shutting out the Ducks.
"Just look around this place. This is what gives us energy," Lehner told Hogan. "The fans of this franchise are absolutely unbelievable, and it's a lot of fun for us as players too, to play in front of [them]."
Let's keep it up, Isles fans. Here's to your first-place New York Islanders. Cheers!
Editor's Note: Brian Compton of NHL.com confirmed after the game that Lehner "lowered his NHL-leading GAA to 2.02", adding that his save percentage increased to .930, now one-hundredth of a percentage point behind Campbell.
Comments
comments
Tags :
Islanders
New York Islanders
robin lehner
Thomas Greiss