Isles' Beauvillier Needs to Stay Focused on Improving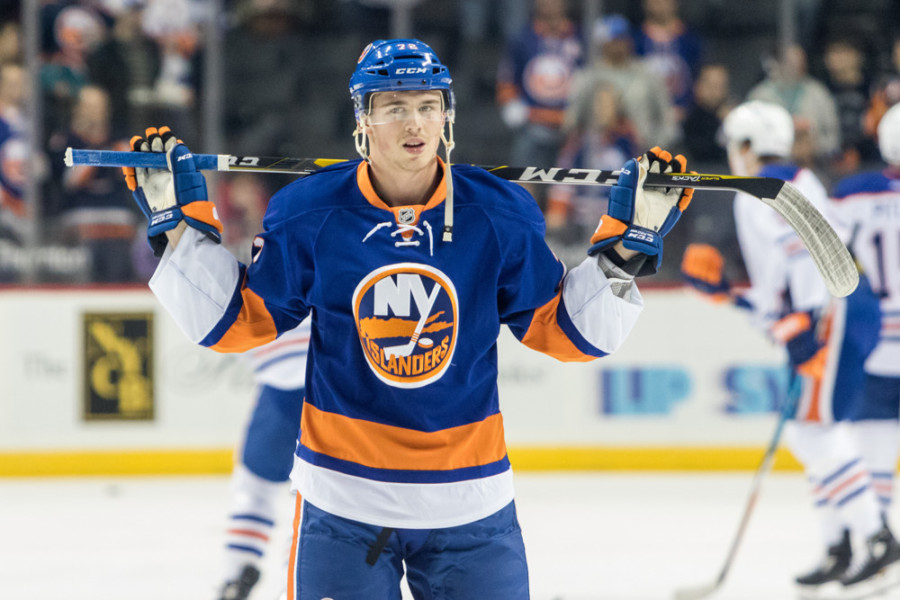 BROOKLYN, NY - NOVEMBER 05: New York Islanders Left Wing Anthony Beauvillier (72) looks on during player warm-ups prior to the start of a regular season NHL game between the Edmonton Oilers and the New York Islanders on November 05, 2016, at Barclays Center in Brooklyn, NY. (Photo by David Hahn/Icon Sportswire)
If  Newsday's Andrew Gross' report of Michael Dal Colle skating with the New York Islanders' second line is indeed going to reflect head coach Barry Trotz' latest line shake-up, the guy heading down to the third line, Anthony Beauvillier, needs to take this potential demotion in stride and continue to improve.
After a breakout campaign in 2017-18 that saw the 21-year-old left-wing put up 21 goals and 15 assists over 71 games played, the Quebec native has struggled to find the same consistency as he did last year.
Even with more ice-time (15:12 average TOI this year compared to 14:32 in 2017-18), the third-year forward finds himself a bit behind his respectable pace from last season. Through 51 games this year, Beauvillier — playing alongside Mathew Barzal and Josh Bailey, mostly — has 12 goals, seven assists, a -3 plus/minus rating, and a 49.5 Corsi-For percentage.
Again, respectable, but not quite the progress anyone was hoping to see out of such an exciting, talented young player. Last season, Beau averaged over a half-point per game (0.51, to be exact) and racked up a 2.9 offensive point shares rating.
The entire team seemed to feed off of the clearly-excited-to-be-here youngster's energy. It was exciting last year and even more so heading into this season. Unfortunately, the steps Beau has taken this year just haven't been as drastic as they appeared to be last year.
And don't get me wrong, Anthony Beauvillier is coming along just fine. He's still 21, he's got unquantifiable levels of talent, and has a strong-t0-outstanding supporting cast (on-and-off ice) around him to assist in his development.
It's just that, as fans, we want that instant gratification. We want the next Mat Barzal to simply appear every year. That's just not how it works, folks. Progress is a process.
As of Thursday evening (pregame), Beauvillier's per game averages are down across the board (0.24 goals, 0.14 assists, 0.37 points, 1.1 offensive point shares this season compared to 0.30 G, 0.21 A, 0.51 points, 2.9 OPS last year), but, again, he's only 21-years-old. Let the young fella find his rhythm.
As for Beau's apparent demotion, that could simply be a way for Trotz to light a fire under a young player. I wouldn't read too much into it. He may spend some time with Leo Komarov and Valtteri Filppula on the third line and he might even prosper there.
If playing with new linemates is what it's going to take for Beauvillier to find a spark, and if that's the course of action Lou, Barry, and the rest of Uniondale's finest are most comfortable taking, I'm 100 percent on board with the plan. Onward and upward, young man.
Comments
comments
Tags :
Anthony Beauvillier
Islanders
isles