2019 UFA Free Agents: Where Are They Now?
The Islanders swung and missed on Artemi Panarin, did they miss out on anyone else?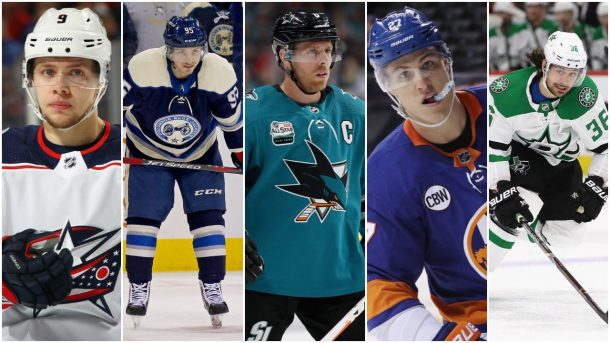 The 2019 offseason saw a few surprises.
Goaltender Robin Lehner departed for Chicago on a two-year deal, Jordan Eberle returned to the New York Islanders for another five years. And then there was Artemi Panarin, who was the obvious big swing and miss.
In the leading moments up to July 1, it looked as though the Islanders were the front runners to land the big fish in the free agent pond. However, Panarin couldn't see past the lights on Broadway, turning down a seven-year, $87.5 million from Isles G.M. Lou Lamoriello, instead signing with the Rangers for seven years at $81.5 million.
In the aftermath of the Panarin deal, Islanders captain, Anders Lee, was then quickly re-signed to a seven-year contract.
Other than Lamoriello bringing Brock Nelson back on a six-year deal — Nelson re-upped with the Isles in May — he replaced Lehner with Semyon Varlamov in net and signed veteran forward Derick Brassard to fill the hole that Valtteri Filppula left. And as we know today, the Islanders came into the 2019-2020 season looking identical to the team they started with in 2018-19.
At the midway point through the season, the Islanders are sitting almost exactly in the same spot they were last season at this time with 63 points. It seems as though there was no Plan B for Lamoriello in the previous offseason. So it begs the question:
Where are some of the free agents now, and if they had signed, would they fit the Barry Trotz mold and have put the Islanders over the hump to Stanley Cup contention?
Artemi Panarin
As we mentioned earlier, this miss stung.
Panarin is simply lighting it up this season, and he has brought the New York Rangers from a likely lottery pick to a potential wild card team. Panarin has found chemistry with former Islander, Ryan Strome, and has boosted the play of the player we once thought of as a draft bust.
Through 47 games played, Panarin has already amassed 26 goals, 68 points, and is on a 1.45 point-per-game pace; 16 of those points coming on the power play.
It's safe to say that had Panarin signed with the Islanders, they would no doubt be contenders for Lord Stanley.
Joe Pavelski
Pavelski was a name on the market that seemed intriguing. But at age 35, was likely not worth the cost.
Well, Lamoriello passed on signed Pavelski, who signed with the Dallas Stars for three years, $21 million. In 48 games played, Pavelski has scored a disappointing eight goals and 19 points. Just five of those points have been recorded on the power play.
Pavelski now centers the Stars' fourth line, while the team fighting to stay in the playoff picture. Had Pavelski landed on Long Island, the results say he would not have been the force that pushes the team in an upward trend.
Matt Duchene
Duchene had been connected to so many rumors in the past that saw him landing with the Islanders via trade. Now that he had the opportunity to control his own fate, he opted for Nashville on a seven year, $56 million deal.
Duchene has 31 points on a fledgling Predators team who recently fired their head coach — Peter Laviolette — and has now been replaced by former New Jersey Devils bench boss, John Hynes. Playing between Filip Forsberg and Mikael Granlund, Duchene has 22 even strength points but has lacked the elite player presence that Nashville had hoped they were signing for.
And is it just me, or does Duchene have a habit of landing on a team that begins to fall on a downward slope?
Ryan Dzingel
As the summer went on, Dzingel still floated out on the UFA market. That was until the Hurricanes swooped in and nabbed Dzingel at two years, $6.75 million.
Dzingel has underwhelmed this year only netting eight goals. He is also well below the point-per-game pace he was at last year at just over half a point-per-game. Had the Islanders landed him the winger, he likely would have slotted as a third line, possibly replacing Michael Dal Colle.
Let's be honest, Dzingel wouldn't have push the needle in the way the team needs.
Gustav Nyquist
Nyquist would have been an interesting sign.
The Blue Jackets signed Nyquist to a four-year, $22 million contract. Nyquist did score over 25 goals twice in his career before being a UFA this past summer, however he has never broken the 55-point plateau.
For most of his career, he was on a Red Wings team that featured Henrik Zetterberg, and was with Detroit through highs and lows. With the Jackets this year, Nyquist has filled the net 11 times and still has some home of possibly reaching that 25-goal mark once again playing alongside stud forward, Pierre-Luc Dubois.
Had Nyquist been lured in by Lamoriello, there's a modest chance he could have helped the team be considered in the deep playoff contention conversation.
Mats Zuccarello
Zuccarello signed with the Wild for five years, $30 million. And while he may have helped the Isles in the short-term this year, that contract could have complicated the Lamoriello's chances of bringing back all three of Mathew Barzal, Ryan Pulock and Devon Toews, all of which should be a part of the Islanders foreseeable future.
Zuccarello is slotted next to Eric Staal and has been featured on the first power play unit in Minnesota. Although he has scored 13 goals this year, he has seen a steady decline since his breakout 2015-2016 season. Where the Isles lack in offense, Zuccarello might have helped a little, but not in the sense of being a bonafide goal scorer.
The Remaining
Other names such as Corey Perry, Wayne Simmonds, Marcus Johansson, Patrick Marleau and more were available for the taking. None of the previously mentioned names though are really lighting the lamp this year nor have they been the X-factor for their respective teams playoff hopes.
Now in hindsight, any of the Plan B's listed seem as though they would not have changed the dynamic of the Islanders. So despite all the clamoring from the fans, the Isles would still be seeking the scoring injection they are missing.
There is still another 48 games to play in 2020. The jury still out on where this Islander team goes. One thing rings true though: the Islanders need help offensively.
The names who they passed up haven't lived up to their heightened expectations. Isles fans should take solace in knowing that.
Comments
comments
Tags :
Anders Lee
Artemi Panarin
Islanders
Lou lamoriello
Mat Barzal
Matt Duchene