The same man that put the New York Islanders in black sweaters wants to put them back at the Nassau Veterans Memorial Coliseum.
Brett Yormark, The Brooklyn Sports & Entertainment CEO, often described as tone deaf by fans, told Newsday's Randi Marshall that he sees a "two-phase opportunity" one that would have the Islanders play some games at the renovated Coliseum on a temporary basis and another if team owners reconsider making the old barn their "new" permanent home.
"Hopefully they (Jon Ledecky and Scott Malkin) read the stories today, they understand what the fans want, and collectively, we can all work together to deliver the fans exactly what they're looking for, said Yormark. That's the goal."
The Islanders clear first choice appears to be a new arena at Belmont Park. The RFP (Request For Proposal) is due on September 28th and the Islanders will almost certainly be submitting to New York State. A new, Islanders centric arena is what is best for owners, best for fans and best for John Tavares as he becomes an UFA (Unrestricted Free Agent) this summer.
The assumption has been that if Belmont happens, the Islanders would play out a full schedule over multiple years in Brooklyn waiting for the arena to be built. Yet, it is becoming increasingly evident that is not what Barclays Center wants to happen.
Bottom line: The game was chance for Yormark to show #isles ownership and NHL what's possible even if Belmont is desired as permanent spot.

— Randi Marshall (@randimarshall) September 18, 2017
Yormark latest comments illustrate that BSE (Brooklyn Sports & Entertainment) know what we all know – Barclays Center and the New York Islanders is not meant to be. Soon they will either be divorced or be forced to live through an unhappy marriage.
Remember, Belmont or no Belmont, the relationship between the Islanders and Barclays Center is changing. The two sides have until Jan. 1, 2018, to renegotiate new terms. If no new deal is reached, the two sides can stay with the current deal or choose to opt out. Each side would have until Jan. 30, 2018, to deliver an opt-out notice in writing.
If the Islanders decide to opt out, the team can choose to leave at the end of next season or the end of the 2018-19 season. If Barclays triggers the opt-out, the Islanders would have to leave after the 2018-19 season.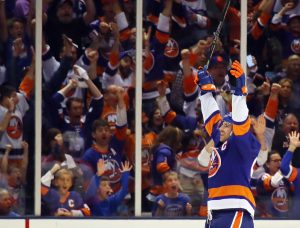 As the New York Post reported back in August, ahead of renegotiating, Barclays Center is pressuring the Islanders to play a significant amount of games on Long Island starting with the 2018-19 season. The biggest hurdle may not be convincing Ledecky and Malkin that this makes sense, but rather the NHL.
"I don't view the Nassau Coliseum as a viable option," NHL commissioner Gary Bettman answered when asked specifically about the Islanders' original home.
Bettman added, "I do think the Islanders have options, very good options, and they are in the process of evaluating what makes the most sense for the franchise and, in particular, for their fans."
Bettman is right. Despite the sell-out crowd of 13,917, the deafening noise for a pre-season game and the unobstructed views, the Nassau Veterans Memorial Coliseum (or NYCB Live, the home of the Long Island Nets as no one calls it), is not a viable long-term option as currently constituted.
Yormark stated there are "doable" improvements that can be made to the refurbished Coliseum to make it more viable. Meanwhile, back in June, Yormark confirmed to Newsday that there is "no appetite to make any significant design changes to Barclays Center."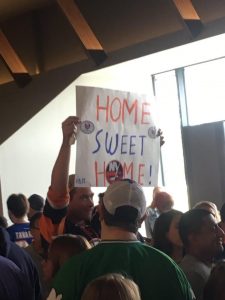 Having been to "NYCB Live" twice, I am highly skeptical the NHL would sign off on the arena as a permanent home given the building's obvious shortcomings (Ladies bathroom lines among the most egregious ignored improvements).
However, a handful of games (6-8) on a short-term temporary basis? I don't see Gary Bettman standing if the way of that if there is a shovel in the ground for Belmont, an ownership group on board and a fan base ready to sell-out the nostalgia filled arena every time the team plays there.
If the NHL was so definitively against the Islanders playing any regular season games at the Coliseum, why would Yormark and company go to such great lengths to put on Sunday's spectacle? They speak to Bettman too – they know what is and is not possible. It's in their business interests to have the team play games on Long Island. Sunday was their pitch to Ledecky and Malkin that it's in their best interests as well.
A little tailgating with Jon Ledecky before puck drop! #LGI pic.twitter.com/4zr3pCvD0x

— New York Islanders (@NYIslanders) September 17, 2017
"[Today's sellout] means we have an incredible fan base on Long Island and we ought to recognize that and hear that," Ledecky told Newsday.  "We want fans from the entire metropolitan area. They're coming from all over and we should be able to honor those fans. They love being back here for this game."
There are many fans that feel Sunday was one big tease – a cruel joke played on fans that have been on the receiving end of too many unfulfilled promises to believe in anything anymore. Yet, I think this could happen, because it makes too much sense not to.
If Belmont becomes a reality, Barclays Center is less attractive as ever as a lame-duck arena. Meanwhile, you have the Old Barn, operated by the same company (BSE) sitting there waiting for New Kids on The Block and Disney On Ice to return while concert and event dates in Brooklyn are locked up by a hockey team that soon won't be there.
If playing some games at the Nassau Coliseum is what the owners, fans and Barclays Center all want, what is stopping this from happening? The fact that it is unorthodox, unusual and abnormal?
Well, that has never stopped the Islanders before.
Comments
comments