Even before last night's win against Calgary—which in the big scheme of things will have had no effect on the decision when to get rid of Jack Capuano and who to replace him with—the Islanders were not going to be the right fit for ex-Panthers coach Gerard Gallant.  Given the widely shared perspective among Islanders faithful that Capuano has to go, it comes as no surprise that the Panthers' surprising decision to fire Gallant immediately piqued the interest of Isles fans.
Isles should call former assistant Gerard Gallant immediately https://t.co/00nvGN3kFU pic.twitter.com/IYZxF8nNzG

— IslandersPointBlank (@IslandersPB) November 28, 2016
And while Capuano absolutely must get canned and Gallant's continued support from his now former players in Florida, even after his firing, and his tenure as an Islanders assistant make him initially appealing, several reasons make Gallant the wrong choice to replace Capuano.
First, and most importantly, as widely discussed as axing Capuano has been, the perhaps less-discussed but equally necessary removal of Capuano's landlord Garth Snow makes it unlikely that ownership will sign off on any external coaching change at this point of the season.
Snow has dealt himself and Capuano into a corner.  We are all too familiar with the exodus of talent that fled the soupy ice of Brooklyn for the promised land of anywhere else this past off season.  In failing to restock by choosing to fill holes from a relatively thin free agent market, Snow made it impossible for himself to avoid blame.  Sure, one could argue that the free agent pool's lack of depth should not be held against Snow, but that same fact—that it was virtually impossible for Snow to find replacements in free agency for the players that he let walk—underscores that he should never have let at least two thirds of Nielsen, Martin, and Okposo leave in the first place.  Last season's status quo, which saw the Islanders make their furthest advance in recent playoff history, was thoroughly preferable to this season's reality.  As such, by blowing up much of last year's core, Snow is directly responsible for the team's dearth of talent and at least partially to blame for the team's missing chemistry.  That being said, Jack Capuano's ability to burn team chemistry to the ground thanks to juggling lines is matched only by this guy's ability to burn his friend to the ground by juggling torches.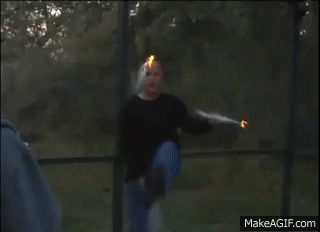 Regardless of who is more to blame, Snow or Capuano, both must find their head on the chopping block.  As such, replacing the coach with an outside hire like Gallant midseason makes little sense; the need to sign Gallant to a multi-year deal would guarantee an arranged marriage between Gallant and some future GM who wouldn't have gotten to pick his coach.  While Capuano has to go, and sooner rather than later would certainly be better, the only way to replace him midseason and replace Snow, who is just as culpable as Cappy, would be to promote an assistant internally to an interim position and then let the new GM decide whether to consider that interim for a full time spot.  As I noted in my last post, the last interim head coach the Islanders promoted was, ahem, Jack Capuano. Instead, the best decision, albeit one that requires patience from Islanders fans who came into the year with high hopes and who are rapidly beginning to fear the prospect of losing John Tavares to free agency in two season, is to wait until after the season when the Isles hire a GM first and then add a coach who is philosophically compatible with the new regime.
Speaking of philosophical compatibility, recent happenings for the Islanders also suggest that Gallant is not likely the right fit for the orange and blue.  A Bloomberg Technology article from the end of last week described the Isles newfound partnership with a Russian startup company, Iceberg, that purports to offer a Moneyball-esque analytics platform for hockey.  While the article does not report the amount the Islanders spent on the technology or the degree to which the firm will be involved in operations, it follows that an approach emphasizing advanced statistics is likely in the team's future.  Gallant, on the other hand, was let go by the Panthers, among other reasons, because of his refusal to embrace an analytic approach.
As per Yahoo Sports:
"Another strike against Gallant was his reported lack of embracing advanced analytics as part of his coaching arsenal. The team's moves in the front office were driven by a desire to become a more analytics-based franchise."
According to LinkedIn, the Islanders already employ at least one advanced statistician.  Alexander Martynov describes his role with the team as a "hockey analyst" who provides "data analysis," "regression modelling," and "reporting."  Martynov is also a former employee of PowerScout Hockey, an advanced analytics firm utilizing cameras to capture and quantify on-ice performance.
An interesting aside: Martynov also shares a last name with the backer of Iceberg, the Russian advanced stat company the Islanders just hired.  Iceberg is funded by Russian technology mogul Vlad Martynov.  Furthering the connection between the Isles employee and the Russian entrepreneur, Islanders employee Alexander Martynov on LinkedIn lists himself as a former business analyst at Russian hardware/software company Yota Devices, and Vlad Martynov is Yota's CEO.  Whether the Islanders are looking to build a Russian advanced statistics dynasty or putting a plan in place to hack next year's Nassau County Executive elections, success on either front would likely be an improvement for Isles fans.
Regardless of whether these connections are substantial or coincidental, it appears clear that the Islanders are serious about developing an advanced statistical approach in the future.  As such, even if Snow weren't a lame duck GM, Gallant would not have been a good fit to implement an analytic strategy, given his refusal to do so in Florida.  And since Snow likely is a lame duck and the team appears poised to put an added emphasis on sports math, it is a long shot that Gallant will be the Islanders coaching knight in shining armor.