He's not the most graceful, but he's without a doubt one of the most important Islanders. If you couldn't figure out who I'm talking about based on the first sentence, it's Uncle Leo Komarov of course!
When he signed with the organization on July 1st, 2018, general manager Lou Lamoriello was ridiculed for giving him a four-year contract. But, in the midst of his third season with the club, Komarov has become an indispensable piece for the Isles. He's only scored 13 goals and recorded 47 points in 159 games and yet the Islanders often appear lost on the ice when he's not playing. Perhaps the most incredible stat of them all is the Isles are unbeaten (13-0-0) including the playoffs when Uncle Leo scores a goal.
But how is a player who rarely scores and sometimes looks like he just put on skates for the first time indispensable?
"You have to be part of the group in the dressing room to understand how certain individuals have an effect and pull people into the fight. Even if they aren't necessarily easy on the eyes or have the stats, they just have a way of having an effect on the game and pulling other guys with them," head coach Barry Trotz said of Komarov after last night's win.
Great celly from Komarov getting the 🐒 of his back pic.twitter.com/DSswgv1uX5

— Rob Taub (@RTaub_) April 29, 2021
It's those immeasurable intangibles that Trotz loves and its why Leo plays the amount he does. There are no fancy stats out there that can put a value on the 34-year-old Finn, but when watching him play it's clear he's one of the leaders on this team, despite not wearing a letter. Not only does he lighten the mood in the dressing room, but on the ice, he can be a lovable pest that sets an example for his teammates.
He can sometimes drive fans nuts because he's not the most graceful player in the world and doesn't have great skill, but the outside noise doesn't bother Leo. In fact, I'm not even sure he's heard it.
"I've been inside for five months, I don't know what anyone's saying about me. As long as the team wins, I'm happy for that," Komarov said last night.
That's Uncle Leo — no nonsense, just shows up to play hockey and goes home without a care in the world.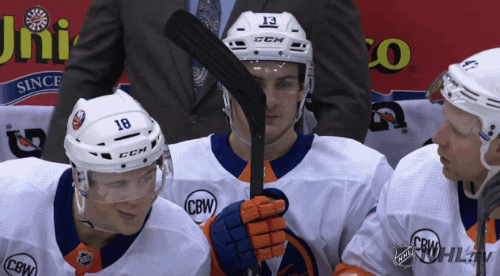 Tuning out the outside noise has allowed Leo to find a home on the left side of Mathew Barzal and Jordan Eberle. He plays what Trotz calls a "predictable game" meaning everyone on the ice with him knows what they're going to get and knows where he's going to be. He does the dirty work in the corners that Barzal and Eberle need to find space in the offensive zone. While Komarov isn't quite Anders Lee, he serves a similar purpose, so it shouldn't be a surprise that the Isles top line has had their best games with Uncle Leo on their left.
While he can be frustrating to watch sometimes, Komarov is a guy teams win with and is the type of guy fans can enjoy rooting for.
"Leo is one of those guys… he's Uncle Leo, he's fun to have in the dressing room. He's one of those veteran guys that's under-appreciated. He's not always pretty to the eye, but as a teammate and a coach, you value that," Trotz said.
The Islanders have had plenty of important pieces over the years, some in larger way than others. Komarov might be on the outside of that group, but that doesn't take away his true value he brings to this team in particular.
That's what makes him indispensable. That's what makes him good ol' Uncle Leo.
Follow Ethan on Twitter @egreenberg99