Harvard's Jimmy Vesey, the Hobey Baker Award Winner and most coveted college free agent in recent memory has been receiving the full-court press from New York Rangers celebrity "fans" trying to woo the 23 year-old to sign with the Blueshirts.
While the Islanders front office and Captain John Tavares were meeting with Vesey's camp in Boston, the Rangers relied on the likes of Susan Sarandon, Justin Tuck, Mo Wilkerson, Run DMCs'Darryl McDaniels and even Noah Syndergaard to do their recruiting. 
@19Vesey nothing like winning in New York! Best place in the world! Hope 2 be cheering your name at @TheGarden this season #NYR #JVtoNYR

— Justin Tuck (@JustinTuck) August 16, 2016
This one hurt, you're lucky you hit a HR on Tuesday Night Thor!
.@19Vesey, come to @NYRangers and I pucking guarantee you won't regret it! ! #JVtoNYR

— Noah Syndergaard (@Noahsyndergaard) August 17, 2016
By the way, you are no longer allowed to pose at center ice on the Islanders logo.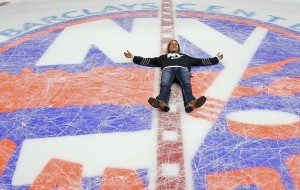 This last straw was when Entourage star Jerry Ferrara chimed in. We all know Ferrara is a native New Yorker and we have all season him at The Garden, but always rooting on the Knicks, never for the Rangers.
.@19Vesey, on behalf of all @NYRangers fans and all New Yorkers, we would love nothing more than to see you in a #NYR jersey! #JVtoNYR

— Jerry Ferrara (@jerryferrara) August 16, 2016
Thankfully, lifelong Islanders fan, director of "Big Shot" and Entourage co-star Kevin Connolly called out "Turtle" the way "E" would in Vinny Chase's mansion.
Jerry? Really bro? Who put you up to that? I know you can care less about the Rangers… .@19Vesey @NYIslanders https://t.co/Jma0W09vlM

— Kevin Connolly (@mrkevinconnolly) August 17, 2016
With the Rangers' celebrities attempting to bully a college kid to their team like the Cobra Kai, it was the Karate Kid himself, Ralph Macchio telling Vesey to hop in to his vintage '47 Ford the same way Elisabeth Shue once did back in 1984. 
@IslesBlog got the vintage KK '47 Ford waiting for ya, @19Vesey . Get in Blue and Orange and let's go 4 a ride #LGI @NYIslanders

— Ralph Macchio (@ralphmacchio) August 17, 2016
The Islanders remain on Vesey's shortlist with a decision expected by the end of the week. Vessey  was originally taken in the third round of the 2012 draft by Nashville, but elected to finish his college career at Harvard (where Isles owners Jon Ledecky and Scott Malkin were roommates) with the intention of eventually testing free agency this Summer.
As of Wednesday, Vesey had reportedly two two teams that they were no longer being considered and the Islanders were not one of them. Now what's Christie Brinkley and Grace Chloe Morentz up to tomorrow?  It shouldn't be too hard to get Boardwalk Empire's Vincent Piazza to film a quick video either.
Comments
comments