After much speculation over the past two weeks, earlier this morning, the New York Islanders named 75-year old Lou Lamoriello the new President of Hockey Operations.
Lamoriello, now the new boss, according to the Islanders press release, "will have full authority over all hockey matters in the organization".  And seeing those words, today marked the first time in nearly two-plus decades that the Islanders will have an established and respected presence calling the shots. Garth Snow still remains as the general manager until further notice, but there's no argument to be made anymore — Snow will now have next to no power and anything he does will have to go straight to Lou.
"I am excited to join such a storied franchise and look forward to working with Scott Malkin and the entire New York Islanders organization," said Lamoriello today.
It truly is Lamoriello's show now. And for the Isles today and the foreseeable future, they will benefit from it immensely.
With Lamoriello being given full autonomy by Malkin, the shift in the franchise will be swift. It's even started already and has Isles fans looking up for the first time in a while.
Even though he wouldn't confirm that he did meet with captain John Tavares with reporters earlier despite confirmed reports by outside sources, Lamoriello has already realized what the top priority is to ensure that the Islanders future becomes brighter than in the past regime. And time will tell if now with Lou's addition, it will be what persuades Tavares to stay on Long Island long-term. But until then, Lamoriello doing his due diligence to secure the most important piece to the puzzle for this franchise since the early 90's, shows he's ready to have an immediate impact.
Beyond the Tavares negotiations, Lamoriello also pointed out that he wants to return the franchise to its glory days of yesteryear.
"I look at it as a challenge to bring the New York Islanders back to where they were," said Lamoriello. Those words instantly show that Lamoriello believes in this franchise and knows how much damage has taken place that he will have to clean up. And there is a lot to clean up.
Bringing up when he first came up in the league when his New Jersey Devils faced the Isles in 1987, Lamoriello reminisced about how competitive a team the Islanders were back in those days. Him using that analogy, and pointing to that positive feeling about how he wants the franchise to be moving forward, means he'll do everything under the sun to bring that pride and fire back that was lost a long time ago.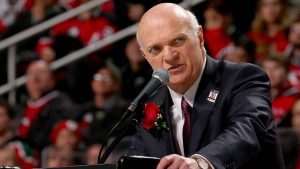 And as I pointed out last week, with Lou now in control, a new mentality is going to be injected into the organization. He described it to friend and WFAN host Mike Francesa in the most genuine and honest way he could.
"The most important thing is to look at is to look at who is in the organization, and what they bring. And not it being about them. For a team to have success, the players have to give up their own identity to have success," said Lamoriello. That's the Lamoriello way. And now it's going to be the Islanders way.
Everyone will be held accountable. From the front office all the way down to the lowest level players, Lamoriello will demand excellence from all parties. There will be no more excuses. This changing of the guard is something the Isles and their fans have been craving for nearly a decade and a half.
Lamoriello also said that what drew him the most towards joining the Isles was owner Scott Malkin's vision and commitment to long-term success. Granted, this also says a lot about just how much faith Malkin has in the long-time executive. But the fact now stands, that Lamoriello is all in and is going to change the fortune of the franchise. Even though he still said he will have to take time to evaluate others in the organization and their philosophies, he having the final decision proves that the times are changing, and things will be different from past protocol.
The 75-year old also revealed that his time with the Isles will not be short-term.
What this means is that starting now – all those desperately warranted changes that needed to be implemented with the franchise for the longest time from not just a personnel persective, but overall team perspective — the team is finally ready to move forward. "Whatever decisions that have to be made, are going to be made. The objective is to win," said Lamoriello.
And he's right. The objective is to win. The Islanders haven't done much of it the last 30 or so years.
Now with Lou here ready to steer the boat finally in the right direction, that objective might finally become a reality.
Follow me on Twitter at @RTaub_
Comments
comments