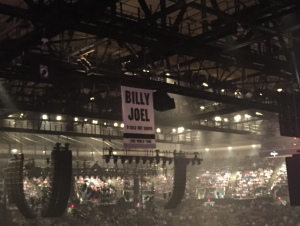 Billy Joel shut the doors on the Nassau Veterans Memorial Coliseum Tuesday Night with his 32nd and final show at the arena,  a personal and powerful three plus hour performance that rocked the Old Barn one final time.
The concert, his first at the Coliseum since 1998, opened with Movin' Out, an appropriate song choice for fans that have seen their franchise pack up their banners and head to Brooklyn for the 2015-16 season. When he spoke the truth, that the there would be "no hockey" for a while, the thousands of Islanders fans in attendance wearing team sweaters, shirts and hats chimed in with a chilling "Let's Go Islanders" chant.
Fellow Long Islander, Paul Simon appeared on stage with Joel for three songs and confessed that he was a Rangers fan. That omission generated the usual 60/40 response from the Coliseum with Let's Go Islanders and Let's Go Rangers chants colliding in the stands.
Later though, Simon would capture the bittersweet feeling of the night by equating the team's move with that of the Brooklyn Dodgers.  "The idea of the Islanders leaving Uniondale to go to Brooklyn," said Simon, "is as sad as the idea of the Dodgers leaving to go to San Francisco." (of course, he meant Los Angeles, but we got the sentiment)
The "King Of Queens" comedian Kevin James also was a surprise appearance. James emerged from backstage saying that he had just seen Clark Gillies beat the crap out Paul Simon before asking Joel if he could sit at the piano and played a surprisingly solid open to Joel's Miami 2017.
"It's a pretty good crowd here in Uniondale and the manager gives me a smile…"
The night ended with "Only The Good Die Young" but sometimes the good die old too and after 43 years, the Old Barn was put to rest in grand style.
SETLIST: Movin' Out / Zanzibar / Summer, Highland Falls / Everybody Loves You Now / No Man's Land / Just the Way You Are / The Entertainer / MEDLEY: I Do/The Lion Sleeps Tonight/In the Still of the Night / For the Longest Time / The Downeaster 'Alexa' / Me and Julio Down by the Schoolyard (w/Paul Simon) / Homeward Bound (w/Paul Simon) / Late in the Evening (w/Paul Simon) / Ballad of Billy the Kid / New York State of Mind / Miami 2017 (Seen the Lights Go Out on Broadway) / Until the Night / Allentown / Goodnight Saigon / Keeping the Faith / She's Always a Woman / Battle Hymn of the Republic > My Life / Captain Jack / I've Loved These Days / River of Dreams > Hard Day's Night / Scenes from an Italian Restaurant / Piano Man // ENCORES: It's Still Rock and Roll to Me / Uptown Girl / Big Shot / You May Be Right > Rock and Roll / Only the Good Die Young
Comments
comments