Here is the continued interview with Isles Radio Voice, Chris King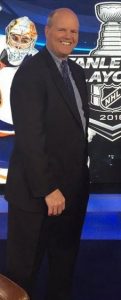 N: That's what I was going to ask, you talk about the bids being sent in and waiting for a decision; now this could factor into the trade deadline and puts Garth Snow in a very difficult position if the Islanders are teetering around that 8th seed. Now do you think Garth would consider dealing him or let him walk for nothing in July?
CK: That's the million-dollar question Nick. Because obviously when you have an asset that valuable, you don't want him to walk away for nothing, that would be worst case scenario. I'm sure they talk about this every single day and John has said the communication has been great between him, Garth, and John Ledecky. The communication lines are open but I don't think he wants it to come to what happened with Steven Stamkos in Tampa where it literally came down to 2 days away from being a free agent and they would've got nothing for him before they got him locked up. I don't think any Islander fan wants to go through what would amount to an entire calendar year of wondering where he is going to go, but from a business standpoint you can't watch your single most important asset and the face of the franchise walk away for nothing, so at what point do you decide that you have to pull the trigger and get something for him if the indication is that he is not coming back. I think Communication is key between John, Garth, and John Ledecky and Nick I would bet they talk about this on a daily basis just to make sure John understands the direction Garth is going, and what John Ledecky is trying to do in order to get the Islanders a brand-new arena near Belmont Racetrack.
N: For the most part, it seems that they are keeping contract talks internal which does seem to be Garth Snow's style. Speaking of UFA's, do you expect a bounce back year from Andrew Ladd? When Doug Weight took over he looked like the force he was in Winnipeg and Chicago and he really stepped up towards the end of the year. Personally, I loved the signing. I think you need that heart, and grit and you need a big top 6. Guys like Ladd, Lee and Nelson give them legitimate size up front, so what kind of year are you expecting from Andrew?
CK: I think he's going to be great Nick. I think he's going to be absolutely great. Two things you have to remember for both him and obviously Jason Chimera; They were coming to the team brand new, the room was still dealing with the effects of the loss of Frans Nielsen, Kyle Okposo and Matt Martin. Those were 3 huge personalities that walked out the door. So, Ladd and Chimera both said how difficult the transition was at first and again you're picking up your whole life. They are both married, they both have children and they are both big family guys so you have to deal with that stuff off the ice. I think there are two things for Ladd. The transition for a whole new life and a brand-new home was one, the other thing was that he was banged up. There was no doubt about it he was dealing with some injuries. Doug Weight finally gave him a couple of games off and I think when he finally bounced back from that little break, he was absolutely a different player. He still finished with 23 goals and Chimera hit the 20-goal mark on the last game of the season, so to their credit you look at both and say that had slightly disappointing seasons overall and still managed 23 and 20 goals. Also remember, neither of them scored in the first 13 games as an Islander. Both scored in the same game, the 13th game of the year and both are going to avoid that slump this year. Again, they are so comfortable in that room now that I think both guys could do more than 23 and 20 goals respectively.
N: I absolutely agree. Now, in net it seems like a position not a lot of people are talking about. You got your 1A and 1B with Halak and Greiss. It seems to be an issue, and I'm not sure, but Jaro has an issue with not being the number one goalie and I personally believe he deserves to be because of more playoff experience. It seems thought that nobody is talking down the road. Jaro is entering the final year of his deal, Greiss signed a 3-year extension last season, and Ilya Sorokin doesn't seem like he is coming over anytime soon. What do you think the future of the Islander's goaltending situation is and this year who do you expect to step up and be the number one guy?
CK: Well yes you mentioned Sorokin and it doesn't seem like he is coming. They have some great players over in Europe but again I don't see any of them coming this year. Again, I think they are right back where they were last year with halak and greiss. It was an unbelievable roller coaster as you can imagine for Halak and after having as good of a world cup as any goaltender had other than Carey Price who won it for team Canada. Jaro was unreal with team Europe, in fact he was second in the tournament for G.A.A. and Save Percentage only behind Carey Price but then struggled big time at the beginning of the season, then being placed on waivers, and being sent to Bridgeport. To his credit, he played his heart out after not being in the AHL for years and returned to the big club. Who would have ever that he would be the guy in goal for the final 6 games and they won all 6 and came up a point shy of a playoff spot. Thomas Greiss played 50 games for the first time in his career and maybe it was a little too much. I think it's going to be really interesting to see how it plays out because I think Halak is the favorite based of how last year ended, but then you look how last season started and it proved that anyone can beat out anyone else. I think it will be a challenge for Doug Weight and maybe you can split them down the middle going 41 and 41 and keeping everyone happy. Let's not forget J.F. Berube is gone now so they are avoiding the three-headed monster which was one of the biggest problems they had all year. It was like trying to put 3 cars in a 2-car garage, it just doesn't work. So, no goaltender will have to split nets and last year was such a mess during practice trying to split the time and Jaro was very vocal about not liking the three-goalie rotation. So, the fact you have two right off the bat for me helps Jaro and Thomas have a better season.
N: You talk about guys that have a lot to prove. Jaro obviously has a lot to show; Which player going into the year do you think has the most to prove or to lose going into the season?
CK: Tough to say. Just looking over my 23 guys, maybe Calvin deHaan looking for a long-term deal and only getting a 1 year deal this year. Jaro Halak obviously to prove he's still a number 1 goaltender. Everyone does start with a clean state but like we mentioned, last year Ladd and Chimera I'm sure would like to have better years even though they finished strong, certainly Ho-Sang, Beauvillier, Barzal would like to show that they belong and can stay at this level. They obviously want to start and finish the year with the Islanders and not go back to the AHL. Certainly, a lot of storylines as the Islanders start the season October 6th in Columbus.
N: Now with all of, Chris what is your take on this season? Do you think the Islanders are a playoff team?
CK: Yup I do, I really do. Last year they had 94 points and missed it by one point then Nashville has 94 points and goes all the way to the SCF so anything is possible. Two years prior, they were 100-point teams back to back and that hasn't happened in over 30 years. I think the coaching change was a big part of it, they were a 500 team in the first half with Jack Capuano, and 12 games over 500 with Doug Weight. The fact that he gets his first training camp and he gets them going from the start and let's face it, the start of last year was where they lost their playoff spot. It wasn't the end of last year, it was the start because they came out of the gates so slow. They had that stretch where they were blowing leads. I believe they blew 8 leads in the first 20 games in the final 3 minutes.  8 times in the first 20 games, with 3 minutes or less, they gave up the tying goal or the go-ahead goal. You look at all those lost points there and finishing one point out of a playoff spot, I know Doug Weight's focus is going to be come flying out of the gate. The guys obviously love playing for him and if his 40 games were any indication of what he can do, then multiply by that 2 and can they be 24 games over 500? That would certainly get them in the playoffs but I just know Dougie's passion for coaching and the fact he's in a more comfortable situation now starting head coach day 1 of training camp; I just think they are going to have a bounce back season, back to that 100-point level and once again make the playoffs.
N: I agree with you Chris; I think this team is absolutely a playoff team because they are loaded up front. Now looking at the 10-year tenure from Mr. Garth Snow; many Islander fans have criticized him, myself as one, you look at the 1 playoff series victory and say hypothetical this team doesn't make the playoffs, do you see this finally being the end of the Garth Snow era?
CK: Oh man Nick that is tough to say. I know you talk about the 1 playoff series win but let's face it when he took over they hadn't won a playoff series in 13 years. He gets the playoff series win that's important but to me the important thing was the back to back 100-point seasons. That hasn't happened since the early 1980's. I think it was the first time they had done it in 34 years so you have to give him a little credit there. Obviously, you'd like to make the playoffs a lot more often than he has, I'll give you that; but they were kind of learning how to play playoff hockey coming off those back to back 100-point seasons which led to an extremely disappointing Game 7 loss in Washington and a Game 5 in Tampa where they didn't show up at all for that game but they proved they can have some magic. They can have JT do his thing in double overtime win a playoff series, take game 1 from Tampa and it looked so good at that point before losing 4 straight. You miss last year and now your even hungrier to get back, I think you have to make the playoffs and at least win a series and to take a step forward you have to win two.  There are so many storylines on the table right now for this team with the arena, Tavares, Eberle and just trying to get back to the playoffs. It's just going to be an extremely entertaining season and a lot of fun to watch unfold.
N: Yup agreed, can't wait to get started! Chris thanks for your time and the call, I really appreciate it!
CK: No problem, Nick. Good luck!
Comments
comments