If you are making the transition from a 15 minute car drive to a hour long haul on the LIRR to attend Islanders games this season, you probably recall this tweet from Barclays Center CEO Brett Yormark last month indicating that changes were coming to LIRR service for games at Barclays Center.

According to Newsday, Aug 3, Yormark is making good on that promise as the LIRR will add two additional eastbound trains to Farmingdale and Babylon that will depart Atlantic Terminal 20 minutes after the end of weekday home games.  As for the weekend games (which there are fewer), a pair of west bound trains will be added to the schedule. Fans will change at Jamaica for all other lines. In addition, (and this is pretty cool) monitors in the arena will keep fans informed of train times.
Throughout the Islanders relocation to Barclays Center, we have made it a priority to ensure that the team's fans on Long Island follow the team to Brooklyn,"  Yormark said in a statement. "We are proud to partner with the LIRR to announce additional trains that will make that process easier and more convenient for our Long Island fans."
And if you made the trip from Long Island to Brooklyn for preseason games or the Blue & White Scrimmage, apparently research gathered from rider tendencies helped make these changes happen. Job well done!
Now someone just tell the MTA to update their site! The Islanders are still completely blank!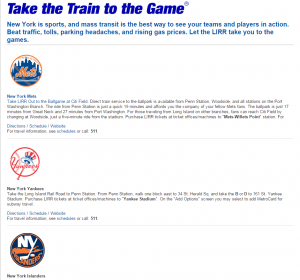 Follow Joe Buono on Twitter HERE:
Comments
comments