You miss the Coliseum. I miss the Coliseum. We all miss the Coliseum.
Maybe you wave when you drive passed it on Hempstead Turnpike.
Maybe you purchased two worn out seats that you keep in the basement.
Maybe you still wear your "It Happened At The Coliseum" shirt to bed at night.
Frank DeLuca, he built the Nassau Coliseum – in his backyard.
"I started building backyard ice rinks for my son over the last few winters. Then I got the idea to put up boards. Then I painted the boards and added a canopy. It evolved from there."
Yes, evolve it did.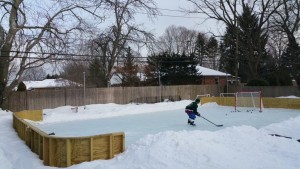 No, he didn't hear "If you build it, he will come" in a loud whisper, but this is an ice rink of dreams. "During the last season of the Coliseum I decided this is what I wanted to do," says DeLuca, a police officer living in Glen Cove.
"Like most Long Islanders, I was devastated to see them leave.  I wanted to keep the spirit of Coliseum alive and make it functional to where my kid could play in it."
A season ticket holder during the building's final 5 years, DeLuca took photos all over the Coliseum that final season. He captured the exact positions of the banners and made certain to capture other important details such as the advertisers on the boards.
Party City, Canon, Advil, Geico, National One Bank, JetBlue and Reebox are now benefiting from free advertising in his backyard.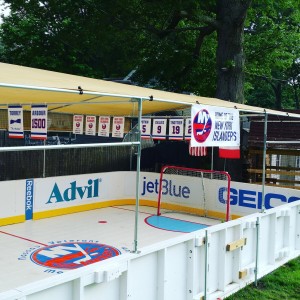 DeLuca's brother, a graphic designer, helped scale the images down to size in order fit the rink before Frank took them to a local company that specializes in signs and banners. Next he teamed up with a friend who is a carpenter to construct and paint the boards.
After gathering all the materials for months, DeLuca completed construction of the 20 x 30 foot rink in about a month, proving some things can get done fast in Nassau County.
All four Stanley Cup banners and retired jersey numbers (5,9,19,22,23,31) along with banners for "The Architect" Bill Torrey and the legendary Al Arbour all hang above the rink and under a beige colored canopy purposely picked to most resemble the Coliseum roof.
You can even sing the National Anthems while gazing up at the American and Canadian flags.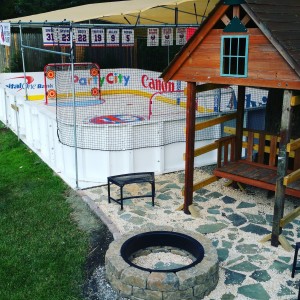 On Friday, DeLuca posted photos of the rink for the first time on social media. "It just exploded. I got a very positive reaction from Islanders fans. Some said it was the most amazing thing they have ever seen!"
As for his very understanding wife Dana, the built-in Coliseum ended all hope of a built-in pool. Still, both parents can't deny the biggest winner in this is their son. No longer needing to wait for ice, 12 year-old Anthony can be out there all the time playing 2 on 2 with his friends or practicing his shot. But the father-son relationship with the team was forged long before a rink was erected in the backyard.
"We're lunatics, just die hard Islanders fans. We've traveled all over the country to see them." Father and son have been to 27 of the league's 30 arenas. This year they will visit their final 3 NHL arenas: Minnesota, Vancouver and Colorado and plan to be in Las Vegas during the 2017-18 season.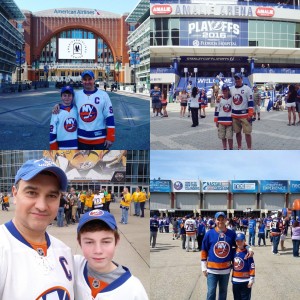 The Yankees fans have already checked off all 30 Major League parks off their list. Hockey, DeLuca explained is a little tougher to complete because of the school year.
"Hockey has helped us develop a strong relationship. Going to Islanders with my son has been special. Our thing was always going to the Coliseum together."
Since the move, the DeLucas have been to a few games but of course it's not quite the same. "Even now when I think and talk about it I get a little choked up. We had such a strong attachment to this team. I know they are in Brooklyn, but it's almost like I lost a family member."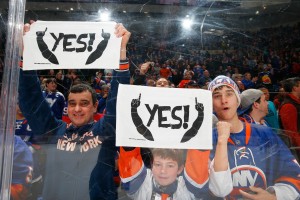 For Frank DeLuca and his family, the Islanders may no longer be on Long Island, but the Coliseum, a very special version of it is closer to home than ever before.
Comments
comments