With less than 48 hours until the start of training camp, the New York Islanders could be without one of their young stars for the entire season. Brock Nelson still hasn't signed the two-year contract the Isles have reportedly offered, after Nelson and his agent rejected his qualifying offer earlier in the off-season.  According to Arthur Staple of Newsday, Nelson's agent and Islanders GM Garth Snow haven't spoken in over a month.  While many observers think this could just be posturing by Nelson's agent Ron Salcer, Nelson is in a precarious position as Islanders (still) majority owner Charles Wang has had a steadfast rule since he took over: if a player isn't signed by the opening of camp, he doesn't play at all.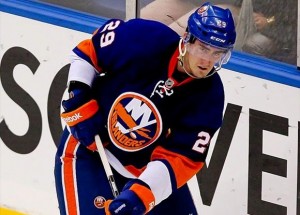 This is an interesting situation from a number of sides here.  Yes, Brock Nelson is a valuable player that could without a doubt help this team.  However, he's not an indispensable player and has absolutely zero leverage in these negotiations.  Coming off his entry-level contract Nelson still has no arbitration rights, and the majority of players in his situation take a 1-3 year bridge deal to get them into RFA status that could result in arbitration down the road.  This is most likely the type of offer that Garth has put on the table.
Nelson's production also took a nose-dive last year, which was disappointing considering the strong start he had early on.  Brock totaled 12 points in the teams first 9 games, but also went long periods of time without finding the net, scoring only 5 goals in the last half of the season.  His struggles culminated with head coach Jack Capuano bending Nelson in game 5 against the Capitals.  With the depth of the Isles farm system, not having Nelson would only open up competition for his spot amongst newcomers like Kirill Petrov, Michael Dal-Colle and Josh Ho-Sang.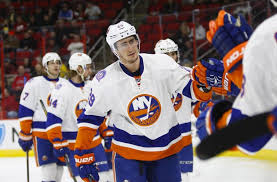 One has to wonder if Nelson is getting good advice from Salcer.  Trading Nelson makes no sense from the Isles standpoint as they still hold his rights, and sitting out a whole season as a 23 year old with 68 points in 154 career games will seriously hamper his earning potential in the future.  As Arthur Staple noted in the Newsday article, Nelson was in the same spot that Anders Lee was in going into last season.  Lee signed his qualifying offer (which Nelson has declined as of now), and went on to have a breakout season.  Lee was rewarded with a 4 year, $15 million contract this summer.
We can debate all day whether or not the rule that Wang has implemented is fair or not, but the rule is the rule.  Wang has exercised it in the past (Sean Bergenheim being the most recent recipient of the "sign or sit" decree), and nothing indicates that they are willing to make an exception here.  Best case scenario, Brock signs and produces like he did early last season.  Worst case, there's at least 3 other guys fighting for his spot that are as equally, if not more talented than him.  As much as I like Nelson and would love to have him on the roster, it appears the Islanders are ready to move on without him.  And that might not be a bad thing.
Comments
comments