I was refreshing Twitter as I do 427 times a day this time of year looking for news, any news regarding the New York Islanders. I love having Lou Lamoriello as our GM, but I do wish he'd let something slip out every once in a while. Throw us a bone Lou!
Anyway, back to Twitter. I was refreshing when I saw this…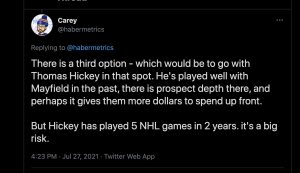 It got me thinking. Is that really such an awful idea? You're probably thinking to yourself, YES!!!! But, hear me out….
Thomas Hickey is probably no longer a NHL defenseman on a contending team. He's certainly not good enough to be getting Leddy-type minutes, and he's not the ideal replacement. But, with Suter no longer an option and if Seattle doesn't make Vince Dunn available, I don't want to panic. We know Lou won't. 
Now, let me be clear: I was absolutely on board with signing Ryan Suter. If we couldn't get him I was hoping to sign Mike Reilly (he re-signed with Boston), but with Suter going to Dallas, Alex Goligoski going to Minnesota and Alec Martinez returning to Vegas, Lou needs to have a plan B or I guess a plan C? 
The Islanders still need a defenseman to pair with Scott Mayfield. This is a good time to breathe. If you mediate on a regular basis, this will help. If you don't, I find screaming into a pillow to be quite cathartic.
What is plan B? or Plan C?!?
Again, let's not Panic.
The last thing the Islanders should do is overpay and use our newly found cap dollars on a washed up defenseman who isn't going to get the job done. Lou needs to make sure if he acquires someone, it's the right guy for the job. 
Here's the important thing to remember. The product we see on the ice in October is not necessarily the finished product. In fact, it's more likely not to be. Remember, two years ago, the Islanders didn't really have a 3rd line center. Lou went out and acquired Jean-Gabriel Pageau. Now, I can't even imagine this team without #44. 
READ MORE: Bentivenga: What to take away from Islanders' qualifying offers
So, Instead of spending too much money or trading valuable assets (Robin Salo/Samuel Bolduc/Oliver Wahlstrom) to get someone who isn't really the perfect fit, let's use what we have. Time. 
Use Hickey as a stop gap. Let's see if he can hold down the fort so to speak for half a season. Who knows, maybe he'll surprise us all. If he's awful, Lou can go out and trade for a defenseman during the season. Not only does that option exist, the market might be more accessible as teams fall out of the playoff race. 
Lou has always preached to use time when you have it. Would we all prefer to have the "perfect" lineup to start the season? Of course. But, if that's not possible, let's not settle. My Uncle Joe did that with his 2nd wife – yikes. Wait. Use what we have – there's plenty of time for Lou to find help DURING the season.  
As an aside, we've all assumed that Ryan Suter was who Lou wanted all along. But, maybe he wasn't. Maybe Lou's plan A and Plan B are still very much available. I will point out that a player I wanted the Islanders to acquire at the deadline last season is a free agent, shoots Left and won't cost much.
Enter stage left, Jon Merrill. He's a journeyman defensive-defenseman who has played for four teams in his career. He started his career in New Jersey so presumably Lou knows him well. He's not fancy, He won't rock your world, but he's really good insurance should the Hickey experiment not work out. You could easily suggest, he's a better option than Hickey.
Per Hockey Viz, you'll notice that 5v5 Merrill is quite good defensively, but a huge negative offensively. He is definitely not the ideal replacement for Nick Leddy. That said, he won't kill you and playing sound defensive hockey and costing $1M isn't such a bad thing.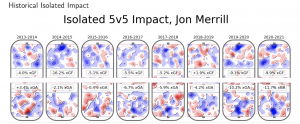 Islander fans are probably disappointed today as they see the top options to replace Leddy sign with other teams, but don't panic. I promise you Lou isn't.
Follow David on Twitter at @TuckOnSports
Comments
comments