We are hours away from knowing a bit more about the makeup of the 2021-22 New York Islanders. General manager, Lou Lamoriello, has shown that the old dog still has a few tricks up his sleeve as he masterfully shed salary without losing a prospect or a first-round pick. 
Now, with all this newfound cap space, there's talk that Lou might be going big game hunting. We've heard the names that the Isles are presumably interested in: Vladimir Tarasenko, Gabriel Landeskog, Conor Garland, but the name I haven't heard mentioned is the best unrestricted free agent available this off-season, Dougie Hamilton. 
If I had to guess, I don't think the Islanders are getting any of these players – just my gut as I think Lou would prefer to keep the team as intact as possible, but if Lou decides to really make a splash, my hope is that he at least considers Dougie Hamilton. 
Hamilton is far and away the best player available and you can acquire him without giving up any prospects. Teams should be falling over themselves to get a hold of him. He's not an elite defender like Adam Pelech, but he's good at 5v5 and on the penalty kill. As for his offense, it's stellar. His 5v5 play is on another level and his ability to QB a Power Play is only bested by a handful of players in the league. 
Fans and pundits point to the Isles' lack of scoring and think they need to acquire another goal-scoring forward, but sometimes you need to think outside the box. One of the biggest issues the Islanders have had the past few seasons and a big reason why their goal scoring is mediocre is their lackluster Power Play. At times, it's clicking, but it's far too inconsistent and the ability to score on the PP in the playoffs is so important as play tightens up during 5v5 play. The one common thread every great PP has is a great QB. A player at the top of the umbrella directing the show. The Islanders have some immensely talented defensemen, but this isn't where their strength lies. I genuinely think Dougie Hamilton QB'ing the Islander PP would push them into the top 10 taking it from a weakness to a strength. 
READ MORE: Mandell: Josh Bailey seems like the top option for Seattle in expansion draft
Take a look at the Stanley Cup winners over the past decade or so — all of them had a defenseman who could provide offense without being a liability defensively. In addition, Hamilton only just turned 28 so he's on the younger side of unrestricted free agents. Hamilton is one of those rare players that pass the eye test and is an analytic's darling. He's really a fantastic hockey player and is more likely to outperform his next contract than most. 
At this point, you might be thinking, okay…I'm on board, but don't we already have too many right-handed shooting defensemen and how are we going to get the cap space to sign Hamilton?
This is where I'm going to suggest something that is probably going to be quite unpopular.
Trade Scott Mayfield. I know, I know…breathe. Hear me out. 
He's coming off a fabulous playoff, he's got two years left on a ridiculously team-friendly contract (1.45m) and he's a right-handed shooting defenseman.  In this flat cap market, he's someone a lot of teams would fight tooth and nail to acquire. His trade value will never be higher. While there's no doubt he had a fantastic postseason, let's not forget how inconsistent he was during the regular season. Many of you in the Twitter sphere were calling for Mayfield to be benched. 
Mayfield is a good player, but he has his limitations. More importantly, he's the trade piece that Lou can use to get picks and a prospect. Lou can then flip those picks to shed more salary (Thomas Hickey, Leo Komarov). If Lou can turn Mayfield, Leo, and Hickey into a prospect and Hamilton, this Isles team will be much better for it. 
Take a look at this roster I was able to put together thanks to CapFriendly. It came in with about 1.4m to spare so plenty of wiggle room should a player's contract be a bit more than I anticipated.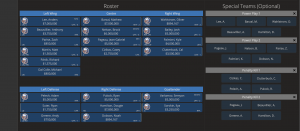 I've been hearing a lot about Landeskog and Tarasenko, but to me, if you're going to spend that kind of money, get the best player you can. And in this case, it's Dougie Hamilton by a country mile.
Follow David on Twitter @TuckonSports
Comments
comments