The IslesBlog team's overview on the New York Islanders' seven Metropolitan Division opponents has reached its end, and today we're taking a look at the Columbus Blue Jackets.
After making the playoffs the previous four seasons, the Columbus Blue Jackets took a major – albeit expected – step back in 2021, ending the season in seventh place in the Central Division. The step back came about a year later than many anticipated after Columbus lost Artemi Panarin, Matt Duchene and Sergei Bobrovsky all in the same 2019 offseason. 
Major Moves
Traded Seth Jones (D), a 2021 first-round pick, a 2022 sixth-round pick for Adam Boqvist (D), two first-round picks and a 2021 second round pick from Chicago

Traded Cam Atkinson (F) for Jakub Voracek (F) from Philadelphia

Traded for Jake Bean (D) from Carolina for a 2021 second round pick

Signed Sean Kuraly (F) from Boston for $2.5 million per year for four years

Extended Patrik Laine (F) for $7.5 million for one year

Extended Zach Werenski (D) for $9.583 million per year for six years
Projected Lines (via DailyFaceoff)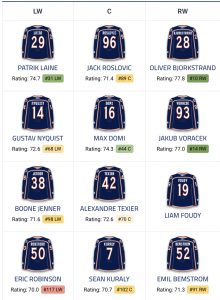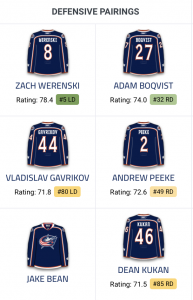 The Blue Jackets seemed to speed up its rebuild with their trade of Jones, who was pretty much destined to leave Columbus after his contract expired at the end of 2021-22. To move on from someone and get the value that John Davidson and Jarmo Kekäläinen got was incredible, considering the fact that it was widely reported that Jones would only sign an extension with Chicago or Dallas. Boqvist is a really nice piece for Columbus who could use another young and controllable asset like the 21-year old. It will take time for him to live up to his eighth overall selection in the 2018 NHL Draft as defenders take longer to develop, but he should be ready in a few years when the Blue Jackets are ready to win.
Adam Boqvist, acquired by CBJ, is a promising young offensive defenceman who's put up respectable results and great production in sheltered third pair minutes. #CBJ pic.twitter.com/nryZbOJCev

— JFresh (@JFreshHockey) July 23, 2021
Despite the nice moves Columbus has made, there are a lot of holes in the lineup. The team lacks a real number one and arguably a number two center after Max Domi struggled in 54 games this past season, scoring just 24 points. Domi did have shoulder surgery in the offseason and will miss at least one month of the 2021-22 season, but Blue Jackets fans have to hope he can return to his 2018-19 form when he scored 72 points.
READ MORE: Repetto: Divisional Offseason Recap – Washington Capitals
Shirman: Divisional Offseason Recap — The Philadelphia Flyers
Perhaps the biggest question this season surrounds Laine. The five-year veteran has had a tumultuous career to say the least. Despite scoring at least 30 goals in his first three seasons, the only three that were full 82-game seasons, he has been marred by controversy surrounding comments about his linemates in Winnipeg and a benching with Columbus last season. It would be hard for Columbus to trade another borderline superstar in Laine, but the two narrowly avoided arbitration with the one-year deal. Laine could be moved this season, as Kekäläinen has reportedly been open to trading him, but it would not help the Blue Jackets to do so if he struggles.
With the lack of talent on the current roster, the Blue Jackets should offer another shorter term deal if the trade offer they desire does not come up. Columbus is entering 2021-22 without former head coach John Tortarella, who seemingly did not like Laine. So perhaps there is a good chance he sticks around.
While there are many questions about this team, one that really does not exist is whether or not the Blue Jackets will make the playoffs. They return to a loaded Metropolitan division that had four legitimate playoff teams from last season in Carolina, Pittsburgh, Washington and the Islanders. Beyond them, the Rangers are expected to make the playoffs and the Devils got much better with the addition of Dougie Hamilton. Perhaps the Blue Jackets are not as bad as the likes of Detroit and Buffalo, but in a division as strong as the Metro, Columbus could be picking in the top-five in next year's draft.
Follow Matt on Twitter at @MattWatling99
Comments
comments